Written by Leslie Santamaria
Tuesday, 11 March 2014 12:49 PM America/New_York
Grandmother of Oklahoma City bombing victims tells story of befriending co-conspirator Terry Nichols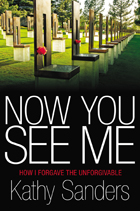 Kathy Sanders' life was turned upside down April 19, 1995, when a bomb destroyed the Federal Building in Oklahoma City, Okla. She tells her story of truth, tragedy and triumph in Now You See Me: How I Forgave the Unforgivable (FaithWords, $25), releasing in hardcover April 8.
Minutes earlier she and her daughter, Edye Lucas, had dropped off her grandsons, Chase and Colton, in the daycare center of the Federal Building. The two were working one block away when they heard and felt the explosion.
Bolting down the street, they were some of the first civilians on scene, but were unable to find the babies. After hours of searching and holding vigil at the hospital, they received the unwanted confirmation. Both boys had lost their lives in the bombing that killed 168, including 19 children. By day's end, Sanders and Edye drove home with empty car seats to an empty house.
"The silence was suffocating," Sanders writes.
In the following weeks, she struggled through grief and despair, even contemplating suicide. After questioning God's existence, she decided to turn to Him and chose life.
Sanders began to believe that the whole truth about the bombing hadn't yet come out to the public. She launched her own investigation, which took her into dangerous places, including a federal prison and a compound of the Aryan Nation.
Most importantly, her search led her to forgive those who had hurt her.
"I never made a conscious decision to forgive. … It just happened," she writes.
She attributes her ability to forgive to her long relationship with Christ and "God's mysterious and majestic process of transforming hate and revenge into love and forgiveness."
While in court one day, she noticed defendant Terry Nichols' mother looking "hopelessly out of place," she writes.
Realizing they were both victims of the bombing—each had lost loved ones that day, one to death and the other to prison—she decided the mother was not guilty just because her son was being tried. So, Sanders introduced herself and expressed sympathy.
This was the first of many olive branches she extended to demonstrate God's love and to seek help uncovering the truth. She also reached out to all of Nichols' family and to Nichols himself, as well as to co-conspirator Timothy McVeigh and his sister. McVeigh never consented to contact with Sanders, but others did, including Nichols. An unlikely relationship then forged.
Sanders showed forgiveness and kindness to Nichols and his family. In turn, Nichols demonstrated trust and confided in Sanders. Now You See Me includes never-before-published letters between the two, reveals new information and underscores the freedom found in the exercise of forgiveness.
To order, call Hachette Book Group at 800-759-0190.