Written by Christine D. Johnson
Wednesday, 02 May 2012 09:37 AM America/New_York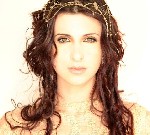 Lara Landon's sophomore project, Overcome, released on her own Wise Sam label. Co-produced by the artist in cooperation with Mitch Dane, Steve Wilson and Brian Hitt, the album is available from New Day Christian Distributors (phone: 800-251-3633; fax: 800-361-2533).
Who is Lara Landon as an artist?
The music that I write is just an extension of who I am in everyday life. Just like all believers, I have some really hard times and some great moments, and music for me is an expression of that. I try to make music that I would like to hear, music that is really honest and stylistically close to what I grew up loving—folk, musical theater, pop, classical.
Read more...