Written by Production
Monday, 16 August 2021 12:18 PM America/New_York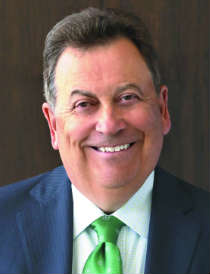 Woody Allen is often noted for saying, "Eighty percent of success is showing up."
Readers of this column will conclude that Mr. Allen didn't own a bookstore. Perhaps he didn't understand the words "success" or "showing up."
Most of us stop working for success at some point in our walk with the Lord. We turn our eyes and hearts to the pursuit of kingdom significance. We seek to make an impact in our bookstores.
We know we have a business to run in the marketplace that must remain sustainable. But we walk by faith in the economics of the kingdom and don't allow circumstances to stir us. This means we must show up in our store, work hard and "having done all, stand" (see Eph. 6:13).
I've taught one core strategy during the bulk of my career to anyone who asked me how to increase topline revenue:
Show up every day and meet the needs of your customers, audience and prospects. Share your message in all media and look for low-cost alternatives to build frequency. There is no need to spend heavy to reach the right audience with frequency.
Pastors and Bible teachers affirm this as the key strategy God used in reaching His audience with the greatest kingdom message of all. He showed up.
Focus on reaching a small audience. A bigger audience isn't always a better audience. Answer this one key question about your target audience: How do my customers need me to show up?
The answer lies in felt needs. The only audience who matters to you is the audience who reads Christian books and buys Christian music, curriculum or giftware. (Don't you wish every author with books on your shelves understood writing to a felt need?)
Our future customers expect us to show up with answers to their problems. Sizzle words in advertising fail for lack of contextual connection to felt needs. We must bridge the reader's problem to the solution found in the book.
The easiest way to reach a specific audience is through your in-house email list. It's also the lowest cost. If you send the right message to the right audience, email campaigns produce results.
Next, expand your email campaign and produce a monthly newsletter. Send one-page updates to your newsletter every week.
Newsletters may sound like an old-school strategy to you. A wise retailer understands the wisdom in using old strategies when they work. If you have a good mailing list and a personal style, you'll discover why many topline builders use this tool often. Follow these quick tips and reap a solid response rate if you maintain consistency.
Type your own newsletter and send it through email. Make it simple so you can produce it frequently. Content matters more than artwork.
Use a web-based newsletter service such as AWeber, MailChimp or Campaign Monitor—depending on the size of your mailing list. This helps you maintain a professional level of communication and aids in tracking opens and clicks.
Avoid sending spam and make sure your readers opt into your list and can opt out. Your newsletter service company will help you remain spam-free.
Write to felt need groups and tell them about new book arrivals that address specific needs. Your newsletter is not a catalog. Make it feel like a letter from a friend about the books they like.
Keep branding consistent for your store(s.) Show photos of your store, inside and out, and pictures of the featured books. If you do online sales—and you should—include instructions and links to buy online.
Include a story or two about customers and build community. Include stories about plans for future events and outcomes (with photos) for recent ones. Remember, your audience consists of readers. Make your newsletter worth reading.
Include helpful links to author pages. When you receive press releases about authors, share the goodies.
The most important thing to know about newsletters is to show up. Keep your brand in front of your customers. Don't let them forget about you.
Topline revenue increases as you increase your frequency of showing up. CR
---
Dr. Steve Greene is the publisher and executive vice president of media and markets at Charisma Media and executive producer of the Charisma Podcast Network. His Charisma House book, Love Leads, shows that without love, you cannot be an effective leader. Download his Greenelines podcast at cpnshows.com.