Written by Leslie Santamaria
Monday, 11 November 2013 10:08 AM America/New_York
Best-selling author of 'Where Is God When It Hurts?' offers sequel to his first book more than 30 years late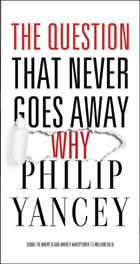 With book sales topping 15 million copies worldwide, Philip Yancey has written on many topics, but the question "Where is God when it hurts?" remains top of mind. That question was the title of his first book, which sold more than 1.5 million books. Now, more than 30 years later, Yancey has written its sequel.
In The Question That Never Goes Away, which Zondervan releases in January, Yancey again leads readers to find faith in the midst of pain and suggests practical ways to help those who suffer.
The author's own experience with pain includes the loss of his father to polio when Yancey was young and a life-threatening auto accident. In 2012, Yancey addressed three groups dealing with extreme circumstances: the Japanese who had been slammed by the 2011 tsunami, Sarajevans who had endured four years of warfare and genocide, and residents of Newtown, Conn., who had experienced the slaughter of 20 first-graders and six staff members at Sandy Hook Elementary School.
As Yancey traveled to Newtown shortly after the massacre, Zondervan temporarily offered his first book as a free download. When the number of downloads passed 100,000 in a few days, Yancey saw just how much people grapple with questions about why bad things happen, so he made the subject a priority.
"We live on a fragile planet, marred by disease, floods and droughts, earthquakes, fires, wars, acts of violence, and terrorism," he writes. "Whether catastrophic or commonplace, suffering always lurks nearby … If Christians have good news to share, some message of hope or comfort for a wounded world, it must begin here."
Yancey says biblical authors assume we will suffer in this world ruled by Satan, and the New Testament passages on suffering focus not on the causes, but on the response.
He points out that Christians place their hope on a time when pain and death will be overcome. Through the story of Jesus, "which includes both death and resurrection," we can see "what God will do for the entire planet," he writes.
While God does not remove human freedom nor prevent evil, He does redeem for good what some intend for evil, Yancey argues.
He also exhorts Christians to serve those who are suffering.
"If the church does its job, people don't torment themselves wondering where God is," he writes.
To order The Question That Never Goes Away, call 800-727-1309, or visit www.zondervan.com.