Written by Leslie Santamaria
Tuesday, 11 February 2014 04:01 PM America/New_York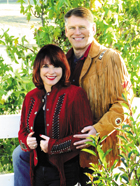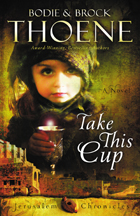 LATEST PROJECT: Take This Cup (9780310335986, $14.99, March 25).
PUBLISHER: Zondervan
This is the second book in "The Jerusalem Chronicles" series. How does Take This Cup follow on from the first title, When Jesus Wept? All of the "Jerusalem Chronicles" are written in first person, in form as if drawn from a diary or a journal. Each (When Jesus Wept, Take This Cup and the just completed Behold the Man) focuses on a character and his or her encounter with Jesus. Just as happens in real life, some events will overlap between stories, and some will be unique to each story. Throughout our first-century stories of the life of Jesus, we have been marching toward the Passion Week events. Each story advances that timeline, and Take This Cup moves readers up to the night of the Last Supper.
What research went into creating Take This Cup? We use Scripture accounts as the outline of events. From there, as in all of the first-century accounts, our research is divided between learning the historical details and finding all the prophetic references to events in Jesus' life so readers can "connect the dots."
What are the main factual portions of this book? All the geographical elements (like caravan routes) and archaeological details and historical references are as accurate as we can possibly make them. Scripture references may be paraphrased, but they are true to the spirit and intent of the originals. Our operating guide is "Do no violence to Scripture."
Who is Nehemiah and what type of character is he? Nehemiah is a child, and as such, he brings a unique perspective and unique needs. Besides that, he is the child of the Jewish families in exile and gives readers the chance to learn about those circumstances.
What must Nehemiah do in this novel? Nehemiah has two tasks. One is to survive a difficult journey to join his grandparents in Jerusalem. The other is a spiritual task. He is to examine the claims of Jesus of Nazareth to be the Messiah and, if found to be valid, to deliver something of importance to Jesus.
What are some of the obstacles he faces along the way? All the dangers of a first-century caravan trip that covered hundreds of miles: robbers, thirst, the first-century equivalent of terrorists. Plus, as soon as Nehemiah is aligned with Jesus, he is also in danger from Jesus' opponents: Romans, temple authorities, Herod and the Pharisees.
Were there any specific challenges or rewards in writing this story from a boy's perspective? Bodie has had lots of experience writing believable and entertaining children [characters in their books], from Yacov in The Gates of Zion through the true story of Tommy and Bobby Tucker in the "Shiloh [Legacy]" books, to the Jerusalem sparrows. Nehemiah is just the latest in a long line of child protagonists.
What do you hope readers take away from reading Take This Cup? As always, we want readers of our work to be driven back to Scripture, not only to verify what we write, but also to dig deeper and learn more. Besides that, Take This Cup emphasizes that all of us, no matter how ill-equipped we may feel, are selected by God to do great things!
You mentioned the next book in "The Jerusalem Chronicles" series. When will it be released, and what other stories are you planning to work on? Behold the Man is due out in 2015. We will be continuing more first-century accounts of those who met and interacted with Jesus.
New Fiction Coming in April
The Fearful Gates, Ross Lawhead (Thomas Nelson)
Visible Threat, Janice Cantore (Tyndale House Publishers)
What Follows After, Dan Walsh (Revell/Baker Publishing Group)