Written by Leslie Santamaria
Tuesday, 11 March 2014 12:50 PM America/New_York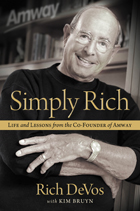 Rich DeVos, co-founder of Amway, a multibillion-dollar global company, has achieved more than most people do in a lifetime. In his new memoir from Howard Books, Simply Rich: Life and Lessons From the Cofounder of Amway (9781476751771, $25, April 1), he details the experiences that have shaped the outward focus that drives his business acumen and far-reaching philanthropy.
In the business world, he is known as a self-made billionaire. Listed by Forbes magazine as the 60th wealthiest person in America, DeVos is also owner of the Orlando Magic NBA team and is board member for several organizations.
In his charitable endeavors, he has helped build several sites, including the Helen DeVos Children's Hospital, a sports arena for Hope College and an exhibit hall in the National Constitution Center—all since undergoing a risky heart transplant that saved his life 16 years ago.
Despite his accomplishments, DeVos often introduces himself simply as "a sinner, saved by grace."
"I cannot remember a time when I did not believe in God," he writes.
As a child during the Great Depression, he attended the Protestant Reformed Church in Grand Rapids, Mich.
DeVos has also never forgotten where he came from, crediting his Dutch heritage for "a love of freedom, a solid work ethic, an entrepreneurial spirit, and strong faith," he writes.
In high school, he met Jay Van Andel, and the two became lifelong business partners. In their first business arrangement, DeVos paid 25 cents per week for a ride to school in Van Andel's car. They soon discovered they made a good team. With complementary strengths, they started a handful of enterprises, including a flight service and restaurant, before founding Amway, which has enabled millions worldwide to own their own business.
In Simply Rich, DeVos tells of Amway's growth from a basement startup to an international success. He also writes about his marriage of more than 60 years, challenges he faced from government regulators and critics, and his philanthropic and political endeavors.
Throughout his 87 years, his beliefs have remained the same.
"These are simply the principles that have proven over time to be my foundation for a successful, fulfilling, and joyful life—a life that not only has been rewarding to me but has resulted in rewards for others," he writes.
To order Simply Rich, call Howard Books at 800-858-4109.