Written by Christine D. Johnson
Monday, 09 June 2014 02:22 PM America/New_York
Charisma Media introduces new word-for-word translation to Christian retailers at special launch event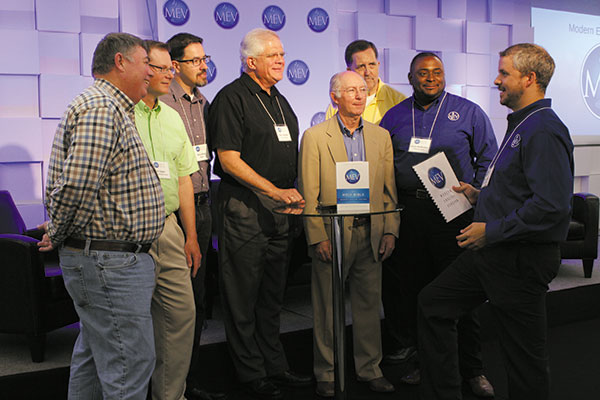 Charisma Media invited more than 20 key independent and chain-based Christian retailers to its Lake Mary, Fla., headquarters May 22-23 for an event launching its new Modern English Version (MEV). Send The Light Distribution, Anchor Distributors and Ingram also were represented at the launch of the most modern translation produced in the King James Version (KJV) tradition in the last 30 years.
Releasing this fall under Charisma House Book Group's Passio imprint, this word-for-word translation maintains the beauty of the KJV language, yet provides fresh clarity for a new generation of Bible readers.
Retailers will have ample opportunity to become acquainted further with the MEV at the June 22-25 International Christian Retail Show in Atlanta. Samplers of selected MEV passages also will be distributed.
Charisma Media plans a significant promotional campaign around the new Bible, including CBA store promotions; trade and consumer advertising in major magazines; product seeding to key pastors and ministry leaders; social media giveaways, blog tours; and drivetime Christian radio and TV spots promoting biblical literacy and engagement. Devotionals also will be delivered via email to more than 200,000 consumers, and an MEV mobile app will be created for users on the go.
Charisma Media also is involved in a strategic partnership with Bible Gateway, which will add the MEV to its online translations. Part of HarperCollins Christian Publishing, Bible Gateway reaches more than 14 million unique visitors per month.
Several MEV editions are coming out this fall, including the SpiritLed Woman Bible in printed casebound ($44.99) and lavender leatherlike ($64.99), releasing Nov. 4; the MEV Thinline Reference Bible in jacketed hardcover ($19.99), black and cranberry leatherlike ($29.99), releasing Sept. 2; and the KJV-MEV Parallel Bible in jacketed hardcover ($39.99), releasing Oct. 7.