Written by Staff
Monday, 08 December 2008 10:41 AM America/New_York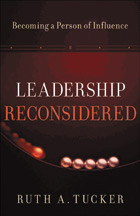 Providing a different perspective on a familiar topic, Ruth Tucker's Leadership Reconsidered: Becoming a Person of Influence (978-0-801-06824-9, $14.99, Baker Books/Baker Publishing Group) releases this month. Tucker, who was the first female faculty member at Calvin Theological Seminary, believes what's missing from most leadership discussions today is the idea of legacy.
"Too often, we fail to emphasize the critical role of legacy to that of leadership," she told Christian Retailing. "People take leadership courses and read leadership literature so that they can become (a) leader—so they can raise their own profile."
The author's take came as a surprise to some of her students when she presented the genesis for the book in a leadership studies class. Many of her students had come to the class expecting to hear 12-step development programs. Instead, she challenged what she felt was the "phoniness" of such promises.
"As we dug into the material, they seemed eager to join me in challenging the leadership industry that is typically given a pass," she said.
Tucker offers examples of biblical leaders like Moses and Jesus as well as historical figures like Martin Luther King Jr., but she also sees value in dissecting the leadership skills of such figures as Adolf Hitler and Vladimir Putin.
For more information, visit www.bakerpublishinggroup.com, or to order, call Baker Publishing Group at 800-877-2665.