Written by DeWayne Hamby
Tuesday, 08 October 2013 10:03 AM America/New_York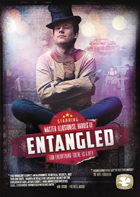 Illusionist Harris III stars in the new autobiographical dramatic documentary Entangled: For Everything, There Is a Key... (793573209986, $14.99), releasing Nov. 19. The Destiny Image Films release integrates Harris' personal story with scenes from his live show.
Is Entangled a movie or a documentary?
People have been asking us for years at our shows. People come up and ask if they can see a full show, hear the message, because what we do is so unique. So we set out to make a live show DVD. But then we thought, "Let's make it more creative, and this old Vaudeville style theater rented out, and do big illusions, such as the water tank escape and sawing the lady in half. The story we tell throughout the show—we thought it would be fun to make a film that goes along with it, so we kept writing this little screenplay and we ended up making a full film and combined it with a live film. You're watching a movie and it fades to the show—it goes back and forth through the entire film—to tell one story. It's kind of unique. No one's really done anything like that as far as we know.
What do you say when someone asks what an illusion has to do with the faith message?
It's a common question. With the water-torture illusion, I could do an entire show with a message-based approach to it. I believe I use the greatest tool in the world to teach people how they are deceived. People are tricked into believing lies about themselves, and they affect our decision-making processes. All these things in the Bible tell us to live our life not by what we see or feel. I can't think of a better tool other than the art form of magic and illusion as a way to teach people that seeing is not believing.
What is your story, which is portrayed in the movie?
I was doing megachurch shows, corporate events and doing pretty well. A few months later, we found ourselves in other countries. We realized we were deceived and tricked into believing all these lies about success. When I started digging, I discovered the process of how I was deceived, how I was tricked by the world. It is the art of misdirection. All of these principles of misdirection are universal. The god of this world has blinded the minds of unbelievers. As illusionists, we temporarily blind the audience by taking away their senses and the way they think. I teach people how they are deceived and how they can spot lies in their lives and how the truth sets them free. The story in the film, my personal testimony, is shared throughout the live show. It's about this magician who was deceived in the world and it almost cost him his life—and how the truth can set us free.
Do you reveal your secrets?
I prefer not to give away the actual secrets of how the illusions work. I show the audience how something works and in the process of showing them, I fool them again to keep everyone on the edge of their seats, to keep them guessing. Sometimes I do tricks where the audience can clearly see what's going on, but I get a volunteer on stage who doesn't. The situation where the audience can see it, but someone else can't see it, and he's completely baffled and amazed. It's a powerful moment for the audience to realize that.
You did a Kickstarter campaign to finish the project and raised $26,000. How did that happen?
We knew what we needed to get the movie done. It was like a football game, and you're at the 10-yard line and it's almost done, but we needed another $20,000 to get the ball to the finish line. We matched our goal and raised more than $6,000 extra. It was humbling to be a part of it and realize there were that many people out there to get behind the project.
How do you feel about the finished product?
We are getting some positive feedback about how the gospel is presented. It's not super confrontational or cheesy. I just did it the way I've been doing it for years. Before you know it, you're listening to the gospel. I believe we succeeded at our goal in making something that's high quality and professional. It has been reaching a broader audience, and some super-critical people are saying, "This is well done." Christian families can sit down with their neighbors and watch it and have conversations about the gospel. That's awesome.