Written by Christine D. Johnson
Monday, 28 June 2010 04:56 PM America/New_York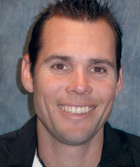 A youth pastor in Oceanside, Calif., Jim Britts is the scriptwriter for the inspirational teen drama To Save a Life, released in theaters earlier this year and available on DVD this month from Affirm Films, Sony Pictures' faith-based movie division.
How did the movie do at theaters?
"Relatively well. We were in just over 750 theaters between the U.S. and Canada for about three months total. The feedback has been unbelievable. There are 155,000 Facebook friends, and stories are still going up every day on our Web site about how the film impacted them."
What sort of stories?
"From people that shared how the film saved them from not attempting suicide or inspired them to stop cutting. There are also many people who now feel empowered to reach out to the hurting and lonely in their worlds."
Are there any extras with the DVD?
"There are several deleted scenes, a behind-the-scenes video, a couple of music videos, a blooper reel and a running commentary."
What additional/ancillary resources are available?
"We made a youth curriculum that thousands of groups have used that goes along with the film. It's really based off the belief that you're never more like Jesus than when you are reaching out to the hurting and lonely. A second youth curriculum is set to come out in August as well.
"There is also an adult curriculum, "To Save a Family," that an entire church can go through using the film. We also created Devo2 Go, which comes from the movie. It's a devotional that you listen to on your mp3 player.
"There's a nonfiction book helping teens live lives where they can make a difference. Finally my wife and I wrote the novel, and a sequel novel will be coming out this October."
Any plans for a follow-up?
"Yeah, I think so. I can't tell you much except the new script is about empowering people to help orphans around the world find families to live with. We're really excited."
How do you balance film-making with pastoring young people?
"I'm learning. I love it when the two really cross over. Not only was the film great in reaching teens, but it was also the best opportunity our youth group has ever had in reaching teens. I've definitely learned that I'm a youth pastor first and then also a screenwriter/author. It's really cool to see how God loves to break the mold and have very unique callings on our lives. I love being able to share that with students and be a dream giver in their lives."
What do you think of the Christian resources for teens that are on the market?
"There are some great ones. I really believe that if a teen isn't in love with the church and in love with the Word of God by the time they graduate, then they are probably a goner once they are done with high school. We need to keep creating ways for students to read the Bible on their own and get connected with the whole church."