Written by Felicia Abraham
Friday, 15 January 2010 03:52 PM America/New_York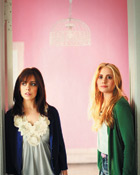 With lead single "Drifting Away" already featured on the ABC's Private Practice, Wake Me, the debut project from twentysomething sisters Tal & Acacia arrives in stores Jan. 26 from Essential Records (Provident-Integrity Distribution).
Describe your music in a Tweet (140 characters): "Quirky Pop/Indie/Alternative. Sonic pop ideals, but the songs were written and mostly built around spare organic instrumentation."
When did you decide to start doing music together? "When Tal was 16 and Acacia was 14. It was the year we lived in Russia with our family working in social services with The Salvation Army, specifically the humanitarian ministry the organization had established in the former Soviet republic in 1991."
Who are your musical influences? "Feist, Imogen Heap, Vince Guaraldi, Fiona Apple, Sixpence None the Richer, Natasha Bedingfield."
What was it like to work with producer Monroe Jones (Third Day, Chris Rice)? "We couldn't have found a more amazing person to work with. His personality, talent and direction really blew us away."
Who is your target listener? "We just want as many people as possible to hear the message of God's love in our music. We love all our fans, from the teens and college kids at our shows, and their parents who seem to enjoy our sound just as much."
Can you each pick a song from the album and explain the themes/sound behind it? Tal: " 'Walkin' Your Dog' was inspired by the fact that when one chooses to walk with God, He doesn't guarantee the American dream. He guarantees more than material happiness, He promises things that can't be gained simply by getting what you think you want. Finding what He has for you personally requires personal time spent with Him."
Acacia: " 'Merry Go Round' is all about living life in fullness. We so easily fall into our hum-drum commonplace duties instead of realizing that we live and serve a living God. ... I wanted [and] still want to be 'filled to the measure of all the fullness of God' (Eph.3:19). I believe that if you are in His will and seeking Him as Lord, then your ordinary days can become extraordinary. So the song is that reminder to get off the 'same old-same old' and find refreshment and life through His presence."