Written by Christine D. Johnson
Thursday, 03 June 2010 03:57 PM America/New_York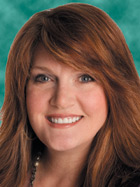 Comedian Anita Renfroe talked with Christian Retailing about her DVD Big Ol' Sweet Iced Tea, releasing in July 2010 from Blue Bonnet Hills and Word Distribution.
Where does the title to your new DVD, Big Ol' Sweet Iced Tea, come from?
"Well, believe it or not, on the cover if you'll notice, there's a big door that we saw on a restaurant down in South Florida. (It) had this big door on it that had sweet iced tea, which is one of our favorite things as southerners, to be honest. We just think it's just the sweetest elixir that God did not make that man thought up. So we are quite big on sweet tea and we have all kinds of rules around our house about how it has to be made. The water has to be hot, melt the sugar, and you have to have five of the big tea bags to make a gallon-you know there are rules and it's quite involved.
Read more...