Written by Production
Wednesday, 27 July 2011 01:35 PM America/New_York
With Denver Bierman at the helm, Denver & the Mile High Orchestra has been entertaining and inspiring audiences for 13 years. New album Groovy releases this month from GFK Records.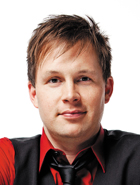 How did you decide on the album title?
It's a little bit of something old and a little bit of something new. That's what I love about our music … it reminds you of something long ago and yet has kind of a fresh and exciting energy to it, so it made perfect sense. … This is one of these records that makes you want to bop your head and get up and dance and clap your hands. We're like, "This is going to be a pretty groovy album."
Did you write all of these songs?
I arranged all the music for Groovy, and I co-wrote with Jamie [Statema of Go Fish] three or four songs for the album, and then I wrote solely probably another two or three.
Who did you have in mind as your listener?
I started writing a lot of songs that were geared for my children to not just entertain them but to teach them things. … Over the course of a few years, I felt like I'd written some songs that would be really applicable to the American family and to the Christian family out there.

Anyone who has grown up in Sunday school will appreciate "Sunday School Swing." You had fun on that one, didn't you?
The "Sunday School Swing" is a classic big-band rockabilly arrangement that the Mile High Orchestra has been known for all of these years. ... Tunes like "This Little Light of Mine," "He's Got the Whole World in His Hands," "The B-I-B-L-E," "Joshua Fought the Battle of Jericho"—we were able to fit all of these songs into one tune called the "Sunday School Swing," and it is so upbeat and fun.
On "Man Gave Names to All the Animals," the reference to Fuzzy Wuzzy will get a laugh—did that one take you back?
That's an old Bob Dylan song about how Adam had named all the different animals living there in the garden in the very beginnings of creation, so we were able to do a duet with Go Fish, which is by far one of the most creative groups out there.
Do you have a favorite?
There's a very happy song on this album called "Brand New Day" … the kind of song that just reminds us all that God came with a clear purpose to redeem us, to give us hope, to give us a future.