Written by Jeremy Burns
Wednesday, 12 March 2014 08:26 AM America/New_York
Tie-in products available at retail for Gospel-based blockbuster movie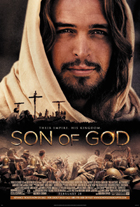 Son of God debuted to a $25.6 million opening weekend Feb. 28-March 2, far exceeding recent tracking estimates of $13 million and $22.5 million. This performance made the Jesus biopic the second-highest-grossing film of the weekend, just behind the Liam Neeson-fronted thriller Non-Stop, which also made its debut Feb. 28.
Produced by Mark Burnett and Roma Downey—the team behind The Bible miniseries—Son of God also managed to outperform the highly successful The Lego Movie, which saw its bid for a fourth consecutive weekend at the No. 1 slot come to an end.
Amid a groundswell of support from Son of God came out of the gates strong with an estimated $9.5 million in box office receipts opening day, just behind the $10.1 million Non-Stop earned that day. Though Son of God didn't manage to overtake Neeson's thriller, the biblical film's earnings grew substantially throughout the weekend.
The Gospel-based drama's opening weekend viewership was 62% female, with 82% being 25 years of age or older, according to BoxOfficeMojo.com Filmgoers gave the movie an "A-" CinemaScore.
With no major star driving the film's appeal, an expansive grass-roots effort has led the push for Son of God. Christian retailers, churches, organizations, radio stations, bloggers and others have helped market the movie, buy out theaters for dedicated screenings and distribute tickets to patrons in the lead-up to the film's release.
Though no DVD release date has yet been announced, several tie-in products are available. Current offerings include a Son of God novelization written by Burnett and Downey (FaithWords), Rick Warren's Son of God: The Life of Jesus in You Bible study materials (B&H Books) and the Son of God: Music Inspired by the Epic Motion Picture audio CD (Word Entertainment/Word Distribution).