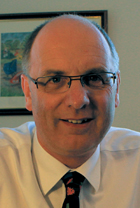 Servant leaders must lead with vision, passion and ownership
MARK HUTCHINSON
President,
Blessings
For a retail team to be successful, it requires a 100% commitment from the leader/owner of the organization. A successful retail team begins and ends with the vision, passion and ownership lived out and demonstrated by its servant leader.
As the leader, your team, however large or small, observes your behavior. They will see and recognize your body language. What does your body language communicate to them, and how do you personally live out the following practices?
Vision: How do you articulate the vision of your store(s) to your retail team? I believe this statement: "If you can dream it, you can do it." Do you believe it?
Passion: How enthusiastic are you about the potential before you? Do you live out your passion before your team, customers and even potential customers?
Ownership: For your retail operation to really take off, the owner/leader has to "own it, live it, breathe it, drive it." As a key leader, you must articulate and demonstrate a clear vision plan for your team.
A team cannot buy into a vision if they do not even know what it is or are not part of its development. I endeavor to involve and seek feedback at all times as we continually live out and work on making clear the vision for our Blessings stores. Five years ago I involved our small leadership team in crafting a vision to take us from a bankrupt company to a thriving retail entity, and as a team, we have accomplished our five-year goals and vision. We are now all involved in crafting our next five-year vision—that's teamwork!
I love my work at Blessings, as we do our small part in helping to spread the good news of Jesus through God-honoring products. I firmly believe in servant leadership; I will never ask or expect any member of our team to do something that I would not be willing to do myself. I want to do everything in my power to create a culture of "we are all in this together." Team members are all stakeholders, and all have value and input into the overall success of our organization.
I also believe that our team extends beyond Blessings and includes our suppliers and publishers. We all need each other and must work to support each other to ensure that we are all able to be an effective vibrant retail team. It is vital to have regular interaction with suppliers and publishers ensuring that all parties are getting the best deals available. For a store to be successful, the retailer must gain good margins to compete with the online and big-box competition.
TEAM ROLES
One of the phrases I live by is: "Begin with the end in mind." The end here is a successful retail team. TEAM=Together Everyone Achieves More.
As you aim to form a successful retail team, build in structure that will last and will support the overall team effort. Ensure that the team has clearly defined roles; everyone must know who is responsible for the various factors of the organization. Regular and constant communication is vital to keeping each member of the team informed. Be careful to champion the wins—small and large—since everyone likes to be part of a successful entity.
As you build a team, look at your strengths and weaknesses, then as you recruit, ensure you fill positions with individuals who complement your team's weaknesses. Always "hire up." I live and breathe by this recruiting statement: "Hire for attitude and train for skill."
TEAM ROTATION
Try and work yourself out of what you currently do every three to four years. This practice creates a living, breathing organization and frees you to expand and work on new ideas and projects. It also allows other team members to continually grow and expand their skill set, value and purpose for your retail team. Continually seek feedback and ideas—remember, no one has the monopoly on ideas. The more you do this, the more ownership others will take.
As you build and develop a successful retail team, I know you will not be able to pay top dollar, as you simply do not have the dollars available. However, I do encourage you to do the absolute best you can for every team member. Pay as much as you practically can, reward team members with a sales bonus and with excellent working conditions, offer healthy employee discounts, provide as many paid vacations as you possibly can, host fun social events and continually involve team members with the development of your store. Regularly provide positive feedback and encouragement—affirm when you see team members going over and above what is expected. The more you can give to your employees, the more they will give back to you.
TEAM REINFORCEMENT
You must ensure that all team members have solid and ongoing training. With the right attitude and core competence, you can train team members to be part of your success, and remember, success is a team sport. A critical area of team training and development is ensuring all team members fully understand the value and importance of interacting/engaging customers with true and genuine enthusiasm and care. The higher the level of customer care, the more your customers will want to revisit your store. This must be a cornerstone of team development.
Stop and think of the most successful retail organizations you know, and ask yourself: Why are they successful? I would suggest that they have a strong team and customer service culture and not a silo, stand-alone culture. I believe you will find this exercise very insightful.
Your team members compose a key asset that is equal, if not more important, than the physical asset of your inventory. That said, keep in mind that a team is only as successful as its weakest link. It is so important for a team to understand their roles and responsibilities, ensuring all are empowered to accomplish their tasks and at the same time fully understanding that each one is interdependent upon the other.
Communication is vital, and it's important to use every method of communication at your disposal. As one of the key factors in developing a successful retail team, team members must be able to say: 1. We all know our roles, 2. We all fully understand that we are interdependent on each other, and 3. We communicate continuously. When vision, policy and goals are communicated, the whole team wins.
For a team to be relevant and continually developing, all of them need to be encouraged to be alert and looking for new trends, new directions in retail and new technology, feeding information back to key leadership so it can be crafted into the organization's goals and vision. A successful retail team is nimble and fluid, ready to accept and embrace change, and adopting the latest methods of marketing and communication.
In summary:
Be a servant leader who is passionate about the business, and be involved not only with business, but also show love, care and attention to all team members. The Marriott Corporation has lived by this adage, and it's a good one for the hospitality industry and for your store: "Give to your employees and they will give back to you."
Train and continually provide training support and mentoring to your team. Set and develop solid policies and procedures that are ultimately customer-focused and driven. Hotelier J.W. Marriott Jr. offered this reminder: "The devil is in the details; success is in the systems!" Set clear expectations and let your team know what matters most in delivering exceptional service in a vibrant retail environment.
Empower your team, but do not micromanage. You must release, encourage and build from your personal servant leadership and hands-on work.
Enthuse your team to be passionate and let your team see your passion for retail. You will be amazed at the results.
Communicate at all times. Be open and honest. Navigate with integrity the tough questions that will come from your team.