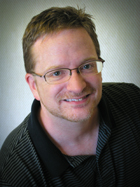 Stores who reach out to congregations can maximize marketing and heighten sales
Mike Meadows
Director of trade marketing,
Warner Press
Attending various industry shows, perusing the pages of trade publications and searching online for Christian products sometimes leaves me with a slack-jawed, glazed-over expression as I ponder the dizzying array of products available in the Christian marketplace.
Which author has given us the next best-seller? Which giftable will be that "must have" item that everyone will be clamoring for this Christmas? Which new music artist do I need to familiarize myself with because they'll be in big demand in the coming weeks? This kind of speculation is not for the faint of heart. It's enough to overwhelm even the most seasoned retailer.
I want to invite you to take a step back from all that uncertainty for just a moment. Take a deep breath and clear your mind because I'd like to take you to church. That's right, let's go to church! I'm not talking about your own weekly church experience, but something much broader. Let's look at the church market and the value church customers have to your retail ministry.
First of all, Christian retailers and the church have a lot in common, don't they? Reaching people with the Word of God, encouraging others in their daily walk, giving fledgling Christians wings to fly, nurturing those little seeds of faith into something greater—aren't these reasons we all have in common for doing what we do best? While we each have our individual parts to play as publishers, distributors, retailers or other entities in the supply chain, our missions often overlap in a variety of ways.
This common mission means that none of us is an island, including local churches, which need partnerships with Christian retailers. While the individual parishioners may be browsing your bookshelves, CD racks and gift collections, churches are looking for core products to keep their ministries going. I'm talking about worship bulletins, certificates, Sunday school and classroom supplies, record books, teaching resources and all of those other items churches use on a weekly basis that are easily taken for granted.
If you're not stocking a portion of your shelves with products for your church customers, then you're missing a ministry opportunity as well as an additional revenue stream. In this day of increased competition, lagging economies and trends that come and go more quickly than sweet potatoes at a church potluck, a solid church-customer base is one key to a healthier, more vibrant retail business. Here are some of the reasons why:
INCREASED TRAFFIC
When you broaden your customer base to include local pastors, church secretaries and lay leaders looking for church resources, you'll discover they not only shop your church resource section, they undoubtedly browse the rest of the store as well. Good connections with these church leaders lead to a good reputation and valuable relationships with their congregations, which means additional traffic and sales for your store.
REPEAT PURCHASES
Churches need resources for their ministries every week. From worship bulletins to offering envelopes, churches have a steady appetite for a variety of renewable items that still have a viable place in the life of most congregations. That means a steady revenue stream from customers you can expect to see time and time again throughout the course of the entire year. These multiple touchpoints and creative ways to reward repeat purchases will build loyalty with your church customer base, which leads to a healthier bottom line.
RECIPROCAL BENEFITS
Not only do you, the retailer, benefit from the additional sales, but also the church benefits from a trusted source of supplies they can count on every week. That means a lot to busy pastors and secretaries who are always strapped for time and resources. By really getting to know your church customers, you will gain a wealth of knowledge regarding the products and services you need to offer. Think of it as having your own marketing research team. The exchange of information between you and your church leaders can be invaluable to both parties.
MAXIMIZED MARKETING
Statistics show that a great number of churches don't have local access to a Christian bookstore, and with the recent trend of store closures, this situation isn't improving, so take some time to think and redefine your marketing area.
Does local mean your neighborhood, your city or your county? Could it mean several counties? While it may not be cost-effective to blanket a wide geographic area with marketing efforts to thousands of individuals, it can be very worthwhile to target the dozens of churches in those same geographic areas. Your marketing dollars are likely to go farther with less waste with this group of customers.
For churches outside your immediate area, build a web presence and email relationship with them to keep them apprised of specials and new products. Check with your suppliers to see if they can drop-ship to these customers, and you may not even have to handle the inventory.
RECESSION RESISTANT
Supplying your church customers doesn't depend on the here-today-gone-tomorrow trends of some of your other product lines. The shelf life for church products tends to be longer and not as affected by the whims of what is popular for today. This means much less volatility in your inventory, making it easier to manage in terms of volume and cash flow.
Is this approach recession proof? No. However, even with all the changes that churches are experiencing structurally, societally and economically, very few are self-sufficient to the point where they no longer need their Christian retailing partners.
MULTIPLICATION EFFECT
When you've built solid church relationships, you suddenly have the ear of exponentially more people. Are you having a book signing or welcoming a new artist to your store? Do you have a special promotion you'd like the public to know about? Tell your church customers! When they announce these events to their congregations, you've suddenly reached hundreds or thousands of people by communicating with just a few.
Such communication might even go a step further when that popular local pastor recommends a particular book he purchased from your store. Be ready with plenty of inventory!
These are exciting, albeit challenging times. That's not news to any of us in the Christian marketplace. Let's face those challenges head-on by leaving no stone unturned. In the case of Christian retailers, this means finding ways to connect with and build a solid base of church customers. It's good for your store, good for your customers and furthers the overall mission of your ministry.