Nordstrom: Mastering Multi-channel Shopping
Upon entering retailing, I made it a practice to let myself go shopping several times a month. I didn't always spend money, but what I came home with were priceless ideas that I have put to use every day as a manager and buyer. These ideas were not cheap, though—in fact, they cost someone a lot of money.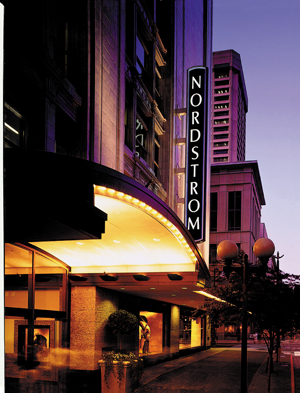 As a result of these visits, I have learned where to place my sale merchandise, the importance and positioning of signage, how to treat customers and how to
merchandise with a small budget.
One of my frequent stops is the local Nordstrom store in a nearby shopping mall. Years of watching and shopping this high-end retailer have supplied me with hundreds of things I implement every day in our bookstores.
I was prompted to take an even closer look, however, when I read that the company's 2010 fourth-quarter earnings rose 35%—an amazing feat in the state of our present economy. The reason for such financial positives was not obvious on first glance at my local store. No major changes seemed to be taking place there. Shelves were stocked and business appeared normal. The same excellent customer service was being presented. Store publicity was arriving at my home frequently.
I discovered that Nordstrom had rallied when others had not during these troubled economic times because of a plan that involved changing the way that it handles inventory. Leaders realized that there were many things they could not change: the economy, the fact that they were not a discount retailer and their stores or locations.
But one thing they could revisit, they determined, was how they handled their inventory. They started by looking at their Web site, its traffic and the habits of online shoppers. They decided that they were not content to lose a customer to another vendor because they did not have the item in stock. They reasoned that they had 115 brick-and-mortar stores across the country and chances were one of them had the sought-after item. And so began the
reinvention and positioning of inventory.
In September 2009, Nordstrom added individual stores' inventory to its Web site. So, if a shopper was looking at a blue handbag on the Web site, the site would indicate where the item was available at nearby stores—and reserve it for same-day pickup. If there was just one handbag left in the entire company, a store employee would fill the order and ship it to the online customer.
With all of the stores acting as warehouses for the online store, immediate results were seen. The percentage of customers who bought merchandise after searching for an item on the site doubled on the first day, and has continued to grow at a rapid rate. The company-wide warehouse approach also benefited physical stores, which could arrange for its out-of-stock items to be shipped to customers from other locations that did have the products available.
Going even further, Nordstrom offers online chat with representatives who will email details of alternative stores that may carry an item it does not.
Admittedly, in the Christian retail world, we may not have the scale that Nordstrom enjoys, but similar multiple ways of using inventory are a possibility for all of us. Many of our distribution houses and even some of our publishers provide us with all types of tools for warehouse-to-home and direct-drop shipments. I have even heard of stores that link with other Christian retailers in their area to be able to offer help with out-of-stock items or recommend those stores to customers.
We must cease thinking that all we have to offer is what we stock on our shelves. Multichannel shopping is the key to keeping our stores open and financially sound.
I plan to use my store's Web site and joint ventures with publishers and gift vendors to the fullest, so that I can have a non-ending stream of product that will fill all my customers' wishes. And if I can't get the item, I will make sure that I tell my customer where he can find it. It's just good business.
---
Deb Graham is co-manager of Prestonwood Bookstore at Prestonwood Baptist Church in Plano, Texas, and a member of Christian Retailing
's editorial advisory board.