Walt Disney World: hellos and good buys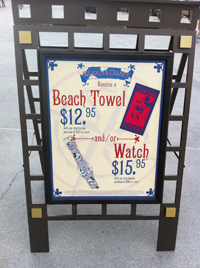 As a frequent visitor to Walt Disney World (WDW), I have come to appreciate the experience offered that is both magical and profitable. Disney masterfully sets a high standard that I've come to expect and I have never been disappointed. Every time I leave, I have bags full of merchandise and retail ideas ready to implement.
The lessons start at Main Street, where customers are captured coming in and going out. The WDW entrance/exit is clean, bright and has engaging music to set the theme-park mood. Cast members are quick to greet, easily accessible, eager to engage, smiling and knowledgeable. Children are greeted with Mickey Mouse stickers.
The window and storefront displays are fabulous, drawing customers deeper into the unique shops. Items are plentiful, easily accessed, and low displays are geared towards little ones. On Main Street, closing is never announced and doors are never locked promptly. I am treated as the most important guest.
Main Street principles focus on the customer. Exciting window and floor displays draw customers. Outgoing, accessible, knowledgeable staff set an inviting tone. Plentiful displays beckon for merchandise to be purchased. Impulse items, especially near the register, create a sense of urgency for customers, driving up sales.
Character Meet 'n' Greets are an essential part of creating the Disney magic. The experience is so good that I am not deterred by long lines. Disney characters don't sit at Meet 'n' Greets (except Santa); they are always standing and completely accessible. Character handlers skillfully keep lines moving and engage guests, ensuring that each guest has the maximum experience.
Author book signings are the bookstore's equivalent to Disney's Character Meet 'n' Greets. Fans today want interaction, and signings should be used to form relationships with new and existing readers. Book signings with an author sitting behind a card table are outdated. An author and bookstore must enhance their readers' experiences. Encourage fans to meet the author, share a story, get an autograph and take a picture with the author. Staff should be assigned to the author, to "work the line" and to take photos. When we're prepared and interactive, we can create our own buzz.
I have also learned through Disney's skillful use of with-purchase specials that customers who buy more, buy more. WDW offers special items that can only be purchased—at a special price—with a qualifying purchase. What a great concept. I usually want the different with-purchase specials offered at different parks and resorts. I anticipate the opportunity, decide what I want and then go about making my selections to drive up my purchase so that I qualify: I've become a customer with a strategy to spend money.
In Christian stores, categories can be seen as our different parks. For example, offer a specific audiobook for $2 with a $10 audiobook purchase, a specific children's book for $5 with any $25 children's purchase and a $5 Christian fiction two-pack with any purchase.
Once a customer qualifies, there should be no limits on quantities or offers. A customer could make a $35 purchase consisting of $10 in audiobooks and $25 in children's products, thereby qualifying for all three with-purchase specials. Customers may buy multiples of each. Specials can be highlighted in the area of the category as well as at the register.
In our stores, we have customers who first come to the register to see what the latest with-purchase special is and then shop accordingly. We create these with-purchase specials by acquiring promotions, packages and closeouts offered by vendors.
We've adapted all three of these practices—Main Street, Meet 'n' Greets and with-purchase specials—in our bookstores. As I work with authors, I try to adapt these practices as well. Learning from Disney is learning from the best. I call Walt Disney World "my happy place." I want my customers to feel the same way about their experience in our stores.
---
Suzanne Kuhn
has been involved with P&K Bookstores for more than 20 years.