Toys "R" Us:
Experience and explanations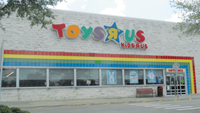 I was dazzled—literally—from the start of my visit to the flagship Toys "R" Us (TRU) store at Times Square, New York City. The flash of a camera greeted me on entry, with a store photographer explaining that for a mere $13.99 I could purchase my photo with the TRU mascot superimposed on an image of Times Square.
That blaze of light set the tone for a high-energy environment in this multi-level, 110,000-square-feet retail extravaganza. While clearly not all the over-the-top ideas could immediately transfer to Christian retail, there were still lessons to be learned.
Posted on a pedestal sign at the entrance, a list of benefits asked and answered the question, "Why Shop Anywhere else?" It occurred to me that Christian retailers might easily highlight at least two of the same points: baby registry (get ready for your baby) and wish list (make a birthday special).
I also loved the handy store directory alphabetized by product category—from air hogs to video games—another easily adaptable idea.
Beyond these common-sense marketing aids, the store offered a larger-than-life experience. Among the features were a 60-foot Ferris Wheel with 14 themed cars, including the obligatory pink Barbie car; a two-story Barbie dream house with accessories, clothing and collectibles; and a collection of 25-foot-tall Lego replicas of iconic skyline buildings, including the Empire State Building and Statue of Liberty.
A catwalk allowed customers to stroll past an expansive row of plush placed high above the sales floor. Throughout the store, this strategic use of air space gave the illusion of an even larger area; too often, floating space at retail is totally bare.
Beyond all the noise and action, however, the store was clearly organized. Varied floor surfaces defined the different departments. In the Babies "R" Us section on the second floor, large wall photos showed the product in use: a parent pushing a stroller was above the stroller section; a child in a car seat was shown above the travel systems. What an effective way to communicate product location.
Looking beyond the crush of customers, inventory was deep; shelves were totally stocked. Almost every 20 feet, an employee demonstrated a toy or game. These hawkers added to the hubbub, but also contributed an element of surprise. The interesting and unexpected elements created an exciting retail backdrop.
The variety of entertainment for children of all ages—from watching the 5-ton animatronic T-Rex in Jurassic Park to creating programming and activating a personal robot—skewed my focus away from spending toward fun. In a similar way, purchasing becomes an add-on to the experience when a Christian bookstore hosts a preschool story time or family fun day.
Employees who demonstrated toys and games were occasionally overly assertive, making understandable one online reviewer's complaint: "From the second you walk in, they're trying to hustle you."
Purchasing was made easy with a bank of registers adjacent to the escalator on the second floor, multiple registers on the first floor and cloth shopping bags at high-traffic junctions.
Online and offline retail merged at the baby registry stations in several locations. Signs read: "Gifts granted the easy way: make wish list in store or online. Share with family and friends. Visit guest services or toysrus.com to start your wish list today." So seamless for the customer.
"Instant credit" blinked off and on above the escalator to the basement. Downstairs, a variety of customer services included an Internet café and a UPS store. And amid all the mass-produced plastics was a token nod to the greening of America: Customers who traded in video games or used hardware earned a store gift card.
A uniformed guard and a security gate were positioned at the entry to the downstairs video games and music section. The steel-gray floor, industrial crates and gray ceiling with futuristic stars visually separated this department from the rest of the store.
But even at this retail tourist attraction, all was not glitzy—a reminder of the need for vigilance. In Barbieville, open double doors revealed damaged goods stacked along a concrete wall and a gritty linoleum floor, in spite of the presence of a mop and red bucket. Simply closing the door would have removed the eyesore.
---
Mary Manz

Simon

is an author, speaker, children's market consultant and member of Christian Retailing
's editorial advisory board.