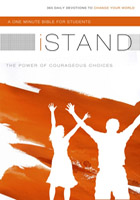 Holman Bibles (B&H Publishing Group) released iStand: A One Minute Bible for Students last month. The softcover Bible targets high school students with profiles of historical characters that made bold choices, questions for personal reflection, weekly worship themes and devotional content from the Livingstone Corporation (producers of The Apologetics Study Bible and The Life Application Bible). The Bible retails for $17.99.
Zondervan released the KJV/Amplified Parallel Bible in Italian DuoTone binding last month. The Bible contains texts of both versions side-by-side for reading and study along with a concordance and the words of Christ in red. The Bibles were released in a regular print Italian DuoTone Gold/Rich Red (8-point type) for $64.99 and a large print (10-point type) Italian DuoTone Rich Red/Camel for $69.99.
BiblesOnDVD and Hendrickson Publishers will release the New American Standard Bible (NASB) Bible on DVD and the New King James Version (NKJV) Signature Edition Bible on DVD next month. The NASB DVD, narrated by Stephen Johnston, includes the entire text of the Bible along with a Holy Land photo tour on one DVD, including on-screen video and audio narration. The NKJV DVD, also narrated by Johnston, is a two-disc set including the Bible text along with a Through the Bible in a Year Weekly Reading Guide, the Ultimate Bible Q&A Game, 33 dramatized Bible stories and a Holy Land photo tour. The NASB retails for $29.95 and the NKJV Signature Edition for $39.95.

Ordering biblical events is the focus of The Chronological Study Bible
(Thomas Nelson), to release Nov. 11. The Bible presents the text of the New King James Version in the order of how the events actually happened with Daily Life Notes explaining how people lived in Bible times, time panels, charts, articles and full-color graphics of places, artifacts and cultural phenomena. The Bible will release in hardcover for $44.99 and in bonded leather (black cherry or distressed umber) for $69.99.