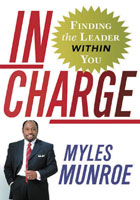 Myles Munroe release signals push to expand readership into business circles.
"The book is about being in charge of your own gift, refining and developing it." —Myles Munroe
A popular speaker and prolific writer with best-sellers Applying the Kingdom and Releasing Your Potential (Destiny Image Publishers) to his credit, Myles Munroe's In Charge: Finding the Leader Within You from his new publisher, FaithWords, signals a more concentrated push to the corporate world.

"I am deeply committed to the quality of my own content and what (FaithWords) has to offer goes far beyond the religious market," Munroe told Christian Retailing. "I was very impressed by their passion."
Munroe cited previous books from the publisher, such as Joel Osteen's Your Best Life Now, as examples of how his message can reach general-market book buyers.

Harry Helm, associate publisher for FaithWords/Hachette Book Group USA, said he believes Munroe is going to be the "next great" voice in business and leadership books, a market that has already proven to be receptive to Christian principles and ideals coming from authors like John Maxwell.

"We're going to be focusing a lot on him as a Christian business writer or a business writer that's also Christian," he said.
Helm admitted Munroe's dozens of previous books with other publishers create a challenge in winning attention for the message of his new book.
"The good (news) is that he produces, and all of his books are excellent. But it does mean that there's a lot of his literature out in the marketplace," he said.
To launch the new book, which presents a message of the leadership potential in every person, the company is pushing the author to more mainstream media outlets, while Munroe continues to speak in corporate settings as well as at church events, traveling more than 200,000 miles around the globe each year, and plans to promote In Charge to both audiences.

"The book is about being in charge of your own gift, refining and developing it," Munroe said. "The basic principle is serving your gift to the world and that gift is anchored in the philosophy of Jesus Christ, who, in His greatest commentary on leadership, said the greatest among you is the one who serves."
Although the book has Christian content and "will be helpful to believers," Munroe said his passion has always been that his message is "not for the church, it's for the human race."
Munroe is also quick to point out that the book, which will be marketed to the business community, isn't just for people who consider themselves leaders. Instead, he said he is speaking to the "entire spectrum" with a message of "bringing leadership down to the level of everyone" from government and corporate officials to housewives and students.
"Leadership is inherent in every person, just as flight is to a bird or swimming is to a fish," he said. "Birds never attended flight school and fish never took swimming lessons. Whatever you were born to do is divinely planted."
The author explains seven principles for developing leadership potential, which include advice like "leadership demands a price" and precepts of servant-leadership such as "leadership is not for you but for others" and "becoming yourself for the benefit of others."
"You were born to serve the world, not to be served by the world," he said. "True leadership is always in the best interest of other people."
With two additional similar books from Munroe on the horizon, Helm is "enthusiastic" about the partnership.
"He is an amazing thinker, and I don't think there's anybody who can look at an issue or a problem or an aspect of spirituality in quite the same way as Myles," Helm said.
AT A GLANCE:
Title: In Charge: Finding the Leader Within You
Author: Myles Munroe
Publisher: FaithWords
ISBN: 978-0-446-58046-5
price: $19.99
Release date: Nov. 10
To order In Charge, visit www.hachettebookgroupusa.com, or call 800-759-0190.