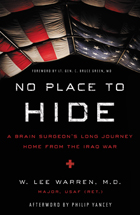 Before the U.S. Air Force deployed neurosurgeon W. Lee Warren to the largest theater hospital of the Iraq war, he was already burdened by heartbreaking personal struggles. In No Place to Hide: A Brain Surgeon's Long Journey Home From the Iraq War, Warren recounts his experiences operating on soldiers, civilians and terrorists alike in a tent hospital with limited supplies, surviving more than 100 mortar attacks and finding meaning amidst the ravages of war.
Each day he treated numerous massive injuries, sometimes performing surgeries around the clock, whereas in his practice in the U.S., he might treat only a handful of such complex cases in a month. The job he had to do and the conditions in which he had to survive and save lives were impossible for him to imagine before going to Iraq.
In the book's afterword, author Philip Yancey writes that Warren's story is distinctive, offering the unique perspective of "a specialist who, devoted to healing, found himself plunked down in the vortex of destruction."
Yet, early in his deployment, despite his habit of self-sufficiency, God began to change him.
"The war had taught me more about life in one week than I'd learned in thirty-five years before it," he writes.
Warren chronicled his days and sent his writings via email to what started out as a small mailing list but which grew to thousands of readers each day. His book includes several of these emails.
The conditions wore on Warren: the never-ending stream of broken bodies, little sleep, nightmares and the constant barrage of mortar and rocket attacks.
Through assisting in the worship band on base and through his encounters with a variety of people along the way—both Christians and non-Christians—he felt something shifting inside and he knew he would never be the same.
"I began to see outside my own problems, outside myself," he writes.
Toward the end of his 120 days in the war zone, he was caught crouched near a wall, unprotected and completely vulnerable during a particularly aggressive attack. It was a pivotal point in his spiritual development as he was learning to relinquish control and trust God.
Warren returned home with his faith strengthened to face not only the problems he had left behind, but also the re-entry into daily life and the demons of post-traumatic stress. Still, his story demonstrates how, through Christ, he moved from loss and despair to courage and victory.
To order, call 800-727-1309, or visit zondervan.com.