Jase Robertson credits his relationship with Jesus for his 'carefree attitude and joy for life' in new book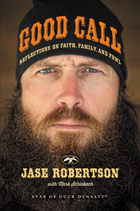 Fans of the popular A&E TV show Duck Dynasty have shown at the cash wrap that they're still voting for the Robertson family. This month a new book from the second-oldest son in the Robertson family, Jase Robertson, joins the growing number of works others in the family have written. Howard Books adds to the stable of titles with Good Call: Reflections on Faith, Family, and Fowl, which offers a similar blend of antics, humor and philosophy show viewers have come to expect, though Good Call explores Robertson's faith in greater depth.
Known for his dry humor and competitiveness, not to mention his signature beard, Robertson explains what he considers to be some of the good calls he has made in life, and he's not referring only to the duck calls he builds for his family's business. Each chapter in the book describes an aspect of Robertson's life such as his first hunt and the birth of his children, as well as related spiritual insights.
"I hope that by reading this book you discover that my carefree attitude and joy for life come from what I have found in Jesus Christ," he writes.
He goes to explain that his belief system "does not come from a religious denomination or creed. It comes from the Bible," and he refers to Scripture often.
Throughout the book are contributions from Robertson's wife, Missy, and an abundance of hunting and fishing tales. On his second date with Missy, she helped load heavy tubs of days-old fish heads into his truck, and he had an inkling that their relationship might work. Through the years, she has been tolerant of his long hours hunting and fishing and his frog cleaning in the kitchen sink, which is important given that Robertson loves frog hunting so much he skipped his high school graduation for it.
Robertson also opens up about his early childhood when his father, Phil Robertson, drank heavily and about the dramatic change in his family after the patriarch became a Christian. When the family moved to their current home, and Robertson spent his days hunting, playing hard with his brothers, attending church and enjoying his mother's cooking. The family was not materially wealthy, but Robertson writes: "Once we moved to the banks of the Ouachita River, I wouldn't have traded my childhood for anything."
At 14, Robertson accepted Christ as his Savior. Although he was shy at that age, he talked about salvation before large groups of teens. Then, after high school, he attended seminary. In their first year of marriage, he and Missy baptized more than 100 people, and they continue to share the gospel liberally.
Regarding his family's fame, Robertson writes: "In my opinion, fame is not about being recognized. It's about recognizing that the God who made you makes us all famous."
Robertson's writing partner, Mark Schlabach, also has coauthored other books with the family members, including Happy, Happy, Happy; Si-cology 1; and The Duck Commander Family, all New York Times best-sellers.
To order Good Call, contact Howard Books at 800-858-4109. Learn more at simonandschuster.com
.