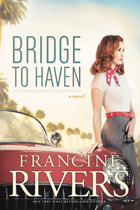 ASK THE AUTHOR: Francine Rivers
LATEST PROJECT: Bridge to Haven (9781414368184, $25.99, April 22)
PUBLISHER: Tyndale House Publishers
You have often said that each of your novels is inspired by a question. Is there a particular question that inspired Bridge to Haven? I wanted to know more about the character of God. I spent more than a year reading through the Bible and filling pages with His attributes. He is the Creator, the Spirit that moved over the earth, the One who walked in the garden with Adam and Eve. He is our Deliverer, Father, Savior, Friend, Healer, Banner, Almighty, the Alpha and Omega. He loves His children and hates sin. And the questions kept coming: Why do people continually "fall in love" with man-made or conceived idols when He is the only One worthy of devotion and worship? Why did it take me so long to come to Him? And how can I be like Jesus when He is love personified, perfection, the perfect representation of Father God?
Sometimes the questions are too big to flesh out in a story. How do you create a character like God when He is too marvelous to behold, or His Son who is perfect and the Spirit who moves and breathes life through His Word into our lives, even translating our prayers in order to align them with God's will? How does one live [out] God's love for the sake of others? What does that look like in day-to-day life? How do people survive the pain that comes with rejection? How do we arrive at the happy ending we all crave? Those are the questions that drive the story.
Did some scripture inform this story? I kept coming back to Ezekiel 16 in which God tells the story of the baby girl abandoned at birth and left to die alongside the road. He lifted her in His arms and loved her. He gave her gifts suitable for a queen, intending one day to make her His bride. It is a story of Israel, but it is also the story of each child born on this planet, each with the potential to belong to God. That story from Scripture became the foundation for Bridge to Haven. God is still the central "character," but He is unseen, always working. The story is about pastor Ezekiel Freeman and his son, Joshua, and Abra, a baby abandoned under the bridge who grows into a beautiful rebellious teenager seduced and carried away by Dylan, a boy given over to living for self and the destruction of others. She is lost, and only God can find her and bring her home again.
Why did you choose Hollywood in the 1950s as the setting? The Golden Years of Hollywood offered hope to countless young people who flocked to California to be discovered and made into movie stars. It still happens. From the true stories I've read, those who did make it were still broken people who never found happiness. Money and fame didn't fulfill them, and sadly, some of the brightest "stars" burned out through suicide. It still happens. How many young stars do we see crashing and burning? Hollywood in the '50s had all the glitz and glamor Satan might offer to a hurting, lost soul who yearns to be somebody who matters. It takes God to bring true light into the neon darkness and fill us with the assurance that God loves us so much He sent Jesus to make the bridge home.
What else you would like to share with Christian retailers? Christian retailers are on the frontlines in the spiritual battle that rages around all of us and will continue until Jesus returns. Without people who place books in the hands of readers, what I do would end up being words on paper that end up tossed in a waste bin. We are all members of a team with the same goal—to promote Jesus and the gospel of our Lord. We live in a time like Judges when every man seems to be doing what is right in his own eyes. Any way we can share truth needs to be employed for the sake of the lost.
Read more of Ask the Author at christianretailing.com/francinerivers
.