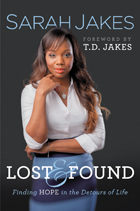 Latest project: Lost and Found: Finding Hope in the Detours of Life (9780764212093, $24.99, Bethany House, a division of Baker Publishing Group).
What prompted you to tell your story in Lost & Found? I never set out to write a book. When I first started writing my blog, I started it as a source of healing for me … as a place to release the pain I was going through dealing with infidelity and still fighting for my marriage … as a place I could just tell my truth. And the more I blogged, the more people responded. I then realized that by being transparent and sharing my struggles, I was able to inspire other people, and together we all started to dream again.
What have been some of the detours in your life? Having my son at the age of 14, getting married and divorcing young, even some of the choices that I have made. But what I learned through it all is that the detours may make things more difficult, but they don't make things impossible. I thought that I couldn't achieve success in my life because of past mistakes. I thought that I had to create a perfect picture to present to God in order for Him to use me, but what I found out was exactly opposite. God is using my life as an example to others [showing] that no matter how "lost" they may be, they can still be "found."
How did living in the public eye as the daughter of T.D. and Serita Jakes affect you? It was certainly challenging. ... My father was continually rising. He was one of the most influential pastors in the country, so it certainly made it more difficult to be his daughter, 14 and pregnant. I still remember the murmurs of the people in the church and the shame I felt as they would talk about me as they passed by. For the most part, the church was very supportive, but when we're only searching for negativity to brace ourselves for, that's all we see. It was even more challenging to go through a divorce with the public spotlight once again on my personal life.
What are some of the ways God is using you today? I oversee the women's ministry at The Potter's House of Dallas, which is the church led by my parents. I also serve as the senior editor of eMotions, our digital magazine. I occasionally serve as a television host on The Potter's Touch and a speaker at our conferences. It is amazing how God works because I also wanted to work with and support my parents, but I didn't think I could because of my past mistakes. I also regularly blog at sarahjakes.com, I travel the world sharing my story as a featured speaker and with my first book, Lost and Found
, set for release on April 1, I am now an author!