When Steve and Sarah Berger's 19-year-old son, Josiah, died as a result of a car accident, the Bergers became more focused than ever on heaven, with Steve launching into a fresh study on the subject. When they learned Josiah had committed to be an organ donor, demonstrating his eternal perspective and compassion, their thoughts about how to live on Earth changed dramatically.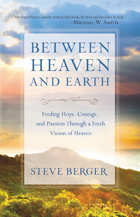 Steve Berger shares their story in Between Heaven and Earth: Finding Hope, Courage, and Passion Through a Fresh Vision of Heaven (9780764211676, $14.99), which Bethany House (Baker Publishing Group) releases this month.
"Josiah's passing lit a fire under me to teach about heaven with a renewed passion," writes Berger, pastor of the 4,000-member Grace Chapel in Leipers Fork, Tenn.
He believes that many Christians consider heaven only after a traumatic event and that many hold misconceptions about their eternal home.
In the book, Berger discusses what believers can expect in heaven—or not. He refers to heaven as the believer's "real home" and adds: "You were not made for this place; you were made for heaven."
Berger also explains how the apostle Paul's life is an example of being heavenly minded and doing earthly good.
"Paul's heart was passionately fixed on heaven while his hand was purposefully working to produce fruit," he writes.
Berger calls this approach "Heart in heaven, hand in the harvest" and says this is the "hard-pressed living" Paul refers to in Phil. 1:3-24.
To have one's hand in the harvest is to spread the good news, disciple fellow Christians and send those willing to evangelize and serve. Berger details the obstacles to this lifestyle and the tools needed for victory.
To order, call Baker Publishing Group at 800-877-2665.