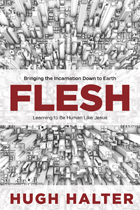 When Hugh Halter, pastor of Adullam Church in Denver, and his wife, Cheryl, became empty-nesters, he looked forward to finally pursuing some of his dreams. Yet he was quickly swayed by Cheryl's reminder that now they would have the time to help people even more, maximizing how they live in imitation of the life of Christ.
Halter examines this type of living in Flesh: Bringing the Incarnation Down to Earth (9780781409971, $14.99, David C Cook) releasing Feb. 1.
Flesh is built upon the foundation of John 1:14: "The Word became flesh and made his dwelling among us" (ESV). Halter points out that while Jesus came to Earth to die for our sins, he also came "to live a life" and "to model a new way to be human."
Halter asserts that Christians come in two types. "First-decision Christians," as he calls them, believe in Jesus as the Son of God. They may attend church, but they remain only at the level of belief. Others make a second decision to live as Jesus lived. He calls this "living incarnationally."
In the most basic sense, living incarnationally, Halter writes, is to "invite the Holy Spirit to interrupt your day, and then ask for wisdom in how to follow."
Living this way does not come easily, Halter admits; it must be learned and Satan will oppose such efforts. Therefore, Halter gives practical examples of trading one's life for that of Christ. A key component is interacting with the world and being continually mission-minded. However, he cautions readers that the goal is not to appear godly, as many Pharisees in the New Testament desired. Rather, living incarnationally is "ultimately and beautifully about displaying God's glory to the world."
To illustrate his points, Halter uses the metaphor of a ladder with the rungs being incarnation, reputation, conversation, confrontation and transformation. He explains these in the book's five sections.
To order, call 800-323-7543, or visit Bookstores.CookMinistries.com
.