Former pro football coach Tony Dungy and wife Lauren share their secrets to marital bliss in new book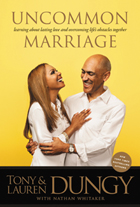 Through more than 30 years of marriage, former Super Bowl-winning NFL coach Tony Dungy and his wife, Lauren, have experienced great joys and successes as well as tremendous setbacks and personal tragedy.
In Uncommon Marriage: Learning About Lasting Love and Overcoming Life's Obstacles Together, they tell their love story and share the secrets that continue to keep their marriage strong. Tyndale Momentum, an imprint of Tyndale House Publishers, releases the Dungys' book Feb. 4.
In Uncommon Marriage (hardcover, $24.99), the Dungys partnered once again with Nathan Whitaker, who has co-authored several New York Times best-sellers, and reveal what they have learned about building and nurturing a strong, faith-filled marriage even through pain and difficulty.
The Dungys' life together has been filled with job changes, moves between major U.S. cities and extended times apart. They attribute their relationship's success to the regular practice of communication and prayer. This foundation held them together in the toughest times, especially when they faced the loss of their oldest son, Jamie.
"The pain and sorrow were indescribable," they write, "but because of our faith in God, we were able to hold on to our foundation—communication and prayer—through a very dark time."
They add that "an uncommon marriage isn't a perfect one; it's simply the union of a man and a woman who commit to staying together and to following God's leading as He shows them how to love and serve one another a little better every day."
Uncommon Marriage is the first in a series of marriage products, which will be followed by a devotional and a DVD curriculum. The audio edition will release simultaneously wtih the trade book.
Officials at Tyndale indicate that Dungy's products with Tyndale Momentum have sold more than 2.5 million units. His 2007 memoir, Quiet Strength—also written with Whitaker—became one of the best-selling sports titles in history with sales topping 1.2 million copies.
Retailers also will know Tony's New York Times best-sellers Quiet Strength, Uncommon and Mentor Leader. Lauren, who is also a New York Times best-selling author, has written several children's books.
While Tony is seen on NBC's Football Night in America, Lauren is a frequent speaker, serving as vice president of the Dungy Family Foundation and as an early childhood educational specialist. The Dungys are the parents of nine children.
To order, call Tyndale at 800-323-9400 or visit TyndaleBooksellers.com
.