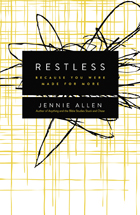 As Jennie Allen's newborn son slept nearby some years ago, she stared at the ceiling feeling restless. She longed for a sense of purpose and wondered about the nature of her restlessness. Was there supposed to be more to her life than what she was currently experiencing, or was she simply not valuing the life she had been given?
She sensed there might be a little of both at work in her heart and set about seeking God for direction. He led her to discover her life's purpose, and now she wants to help other women do the same.
Allen and her husband, Zac, have four children and serve in ministry together. Allen is a Bible teacher, author and founder of the If Gathering, a conference for women. Her first book, Anything, urged believers to completely surrender to God, to be willing to do anything for Him.
Since the publication of that book, she hears from women who say they are all in, but want to know what to do next. Her new book from Thomas Nelson, Restless: Because You Were Made for More (9780849947063, $15.99, Jan. 7), is a response to that question.
In Restless, Allen invites women to dream again. She writes: "I want you to dare to believe that God has a vision for how you are to spend your life. Because finding and accomplishing this vision is quite possibly the greatest responsibility we have as a generation, second only to knowing and loving God."
The author is careful to point out that sometimes a feeling of restlessness comes from a view that our lives are small and insignificant when that is not true. She argues that finding one's purpose begins with identifying the unique threads of one's life—experiences, gifts, passions, even sufferings. She leads women to lay out before God all the threads that might seem random, but which He weaves into a beautiful tapestry.
Thomas Nelson is simultaneously releasing several ancillary products, including a DVD, study guide, leader's guide, discussion cards and a DVD-based study kit.
To order, call 800-251-4000, or visit www.thomasnelson.com
.