Mega-selling author of The Five Love Languages describes 'the kind of marriage God intended'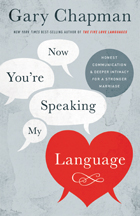 Six months after their wedding more than 35 years ago, Gary Chapman and his wife, Karolyn, were not happy as a couple. Their problem, Chapman asserts, was a lack of understanding about how to complement and support each other despite the fact that they are different. Without an instruction manual, they pressed on with much confusion and frustration, but eventually attained the type of relationship they both desired. Now Chapman offers a new book "with the hope that it will help couples learn the lessons it took us so long to discover," he writes.
Chapman is the author of many titles, including The Five Love Languages, which sold more than 5 million copies and was translated 38 times. In Now You're Speaking My Language: Honest Communication and Deeper Intimacy for a Stronger Marriage, available this month from B&H Books, he focuses on ways couples can enhance the five types of intimacy in marriage.
Drawing on his years of pastoral experience in counseling couples, Chapman begins the new book by examining unhealthy communication patterns and showing ways to establish healthy ones. He claims that 86% of divorced people name deficient communication as their main marital problem.
Better communication fosters deeper intimacy, Chapman argues, and whereas biblical oneness does involve sex, the other types of intimacy—intellectual, emotional, social and spiritual—are equally important. He writes that when these four are strong in a marriage, "they lead naturally to sexual intimacy."
Chapman also points out the differences between contracts and covenants. While contracts are conditional, often short-term, agreements, covenants are permanent and based on steadfast love and unconditional promises. He says the Bible presents marriage as a sacred covenant between a man and a woman, yet many couples today practice only contractual marriage, where the give-and-take is conditional.
The author confesses a time in his own marriage when he didn't think covenantal marriage was possible. But then God directed him to study the life of Christ yet again, and he came to understand the principle of servanthood in a way that finally began to transform his relationship into a covenant marriage. Chapman writes: "I'm convinced that this is the kind of marriage God intended His children to have."
And yet he often hears people lamenting that they had not learned these principles of marriage sooner. Chapman longs for every local church to have a staff or lay couple dedicated to the enrichment of marriages and urges all couples to do two things: participate in one marriage-strengthening event and share one book on marriage every year.
To order, call B&H at 800-251-3225 or visit www.bhpublishinggroup.com
.