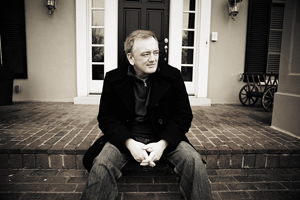 LATEST PROJECT: The Sinners' Garden (9781401687380, $12.99, Dec. 17).
PUBLISHER: Thomas Nelson.
How would you describe The Sinner's Garden? Nowhere is it written that God was going to quit doing His miracles 2,000 years ago. Moses had his staff. Fourteen-year-old Andy Kemp has his iPod.
Who really is Gerald Ripley? "Rip" reminds me quite a bit of a guy named William Sirls. Both have spent time in prison, and they are each unfortunate examples of what can happen when we use the gifts God has given us for our own good instead of for His glory. Fortunately, these two are also examples of God's unending grace and forgiveness, and both are extremely anxious to share their stories and talk to people about it.
How have your life experiences contributed to this book? "God must be in prison, because that's where so many people seem to meet him." I sort of felt like I'd be doing both myself and Rip's character a disservice if I didn't mention that quote somewhere in the book, mostly because it's partially true. Prison gave me both the opportunity and the time, a word I now respect more than ever, to slow down and realize what's important. And as my faith grew, I became increasingly anxious to share life lessons I learned in terms of faith, forgiveness, patience and, most importantly, grace, so I figured what better way to do that than to sprinkle these things amongst characters in my writing?
What do you hope readers will take away from this story? I think any author wants to entertain readers, but as a Christian author with a checkered past, it's particularly important to me that readers come away from the story feeling closer to God. There are many ways for us to feel closer to Him, but to me, forgiveness is the key and is arguably the biggest aspect of our short time here on Earth. I want readers to understand that in order to truly live free, we need to offer our best forgiveness to others and to ourselves, because God offers perfect forgiveness to us.
How would you suggest Christian retailers promote The Sinners' Garden? I get a tremendous amount of feedback from readers who seem to be interested in the fact that I spent three years in federal prison. The bad guy that was saved by God's grace seems to be grabbing people's attention because at the end of the day, we've all experienced some form of prison in our lives—things like addiction, abuse, depression, fear, resentment—the list goes on and on. And whether we ourselves [are] or someone else is responsible for the terrible things that can happen to us in life, the only true healing that can take place from these events can be found in The Sinners' Garden.