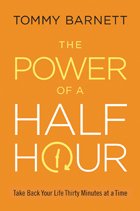 Latest project: The Power of a Half Hour: Take Back Your Life Thirty Minutes at a Time (9780307731845, $22.99, WaterBrook Press), which releases Dec. 17.
What is the half-hour power principle? You can tell what a man's or woman's life is like by how they spend their half-hours. Are they wasting time? Waiting at the airport for a plane? Or waiting for a half-hour at the doctor's office?
How did you come to understand the power of a half-hour? As my church and sphere of influence began to grow and I needed more time, I discovered there was a whole new world of additional time in the wasted half-hours.
Why does how we use our time matter so much? Because time is a gift that only God can give and is not a gift to be wasted. God has given us this precious jewel in a coffer that we call life and we can't waste it. ... A half hour can determine the course of a person's life.
You write that your day is "built on half-hour modules." What are some of the ways you spend your half-hours? Several years ago I made a promise to God that before I spent any time of my day talking to people, I would first talk to God for 30 minutes, then listen for Him to talk to me for 30 minutes. I program in my day a half-hour for a counseling session, conduct a staff meeting for 30 minutes, [use a] 30-minute segment in preparing a sermon [and] write thank-you and encouragement notes [in half-hours]. Even this book was written in half-hour increments. Half-hours can be achieving moments.
Could you explain how The Power of a Half Hour is organized? Every chapter is written so you can read it in about a half-hour. There is a study guide in the back that is also made for half-hour small group meetings. It's designed so readers can use it for prayer meetings, mentorship meetings, mentoring kids, men's meetings and women's meetings.
How do you handle tough problems that you can't solve in 30 minutes? Rarely do I have a tough problem that can't be solved in a 30-minute period. I meditate on it prayerfully on the mountain behind my church. And if there is no immediate answer, I put it on hold and then later give it another half-hour. Usually by the time I get to the next half-hour, the problem has taken care of itself.
Is there anything else retailers should know about The Power of a Half Hour
? This is the secret of being able to pastor two of America's largest churches while turning the large Queen of Angels hospital into a Christian Rehabilitation Center and serving as chancellor of a Christian university. Because I spend many hours on planes traveling to speak, with many pressures, challenges and financial hurdles, I have learned how to face my days and times without sacrificing my health and family. This book will enable and change the life of the person who is busy, including overwhelmed leaders, entrepreneurs, families and anyone who feels occupied by life challenges. In addition to the ministry and the Dream Center, the half-hours have been the secret to having three children lead successful ministries. Because of the half-hour principle, I have time to talk with them, play a game together, go out for ice cream, listen and show interest in their interests.