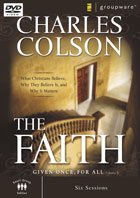 Leaders collaborate across generations to shore up Christian essentials
Best-selling author Charles Colson turns what many have called his most important book into an intergenerational conversation as part of a national campaign to define and defend
the essentials of Christianity.
His The Faith DVD (978-0-310-27605-0, $24.99), releasing this month and based on his book of the same name, is to be the centerpiece of three "church experience" programs Zondervan is preparing for January, April and October next year when congregations across the country will simultaneously study the material in a four- to six-week period.
The Faith aims to help Christians understand more clearly what they believe and why, and how to defend those foundational truths. The DVD's six parts each run about 15 minutes and address The Faith: Given Once For All; What Went Right, What Went Wrong; The Free Gift: Costly Grace; The Trinity: God Above, God Beside, God Within; Be Holy: Transform The World; and The Great Proposal.
Having partnered with Harold Fickett to write the book that released in February, Christian statesman Colson teamed up with emerging young leader Gabe Lyons for the DVD's six informal dialogues.
The co-founder of the Catalyst youth leaders' event, Lyons is the co-author with David Kinnaman of unChristian (Baker Books/Baker Publishing Group), released in September 2007.
Collaborating with Lyons gave Colson an opportunity to connect with younger Christians who may not be aware of his work with Prison Fellowship or his earlier best-selling books such as Born Again and Loving God, said Mike Cook, Zondervan's marketing director for church engagement.
Among those who have endorsed The Faith book, which has sold almost 80,000 copies, is Willow Creek Association founder and writer Bill Hybels, who described the book as "the crown jewel" of Colson's work.
The Faith DVD is supported by a curriculum kit (978-0-310-29373-6, $52.99) and a participant's guide (-27607-4, $8.99).
To order, call Zondervan at 800-727-1309, or visit www.zondervan.com.