'For Love's Sake' addresses issues of mental health in the wake of a father's sudden death
In the new inspirational film For Love's Sake (727985015088, $19.99), a family torn apart by tragedy turns to faith in Christ to be restored.
Releasing this month from Vision Video, the film tells the story of the Walkers—Peter and Mary with sons Paul and James. When Peter's life ends in a tragic auto accident, Mary then finds herself overcome with suicidal depression, leading British human services to remove the boys from her home. The film details the sons' perspective as they cope with their new lives. At the same time, Mary begins to recover through an encounter with a Christian therapist, Dr. Clement Lloyd, played by actor Bruce Marchiano.
Known for his portrayal in the 1994 film The Gospel According to Matthew as "the smiling Jesus," Marchiano said that playing a nonbiblical character was a refreshing experience.
"I have acted in several films as Jesus and was in danger of being typecast for Jesus parts," he said. "I am honored and blessed by that, and I hope I get to do it many more times! But to play the part of a modern and everyday person was a blessing for me, in that there was so much less pressure."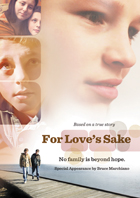 For Love's Sake was written and directed by Andrew Walkington and is based on the events of his own childhood. He founded True Films, which co-produced the film with Vision Video, to promote Christian values.
"The film is based on my own life experience and is offered in hopes that it inspires others to trust in Jesus," he said.
Walkington's wife, Claire, a trained actress, plays the part of Mary. William Wenlock and Luke Foxall make their film debuts as Mary's sons. Additionally, the film includes veterans of British television and film, such as Ray Lonnen, Tara Ward, Nina Stratford, Christopher Lee-Power and Richard Brimblecombe, who co-wrote the screenplay.
The film is releasing simultaneously in retail shops in the United States and the United Kingdom and is scheduled to air on Britain's United Christian Broadcasting in the near future.
To order, call Vision Video at 800-523-0226 or visit www.visionvideo.com
.