An abused child and a misguided counselor become unlikely friends in feature film
Lives are changed and unconditional love is modeled when a troubled towhead meets a clueless counselor in new drama Camp (818728010368, $19.98, Word Films/Word Distribution).
Produced by Roebuck Media, the 111-minute film released to theaters in February and makes its home video debut Aug. 7. With a budget of $200,000, the film tells the story of Ken Matthews (Michael Mattera), an investment advisor, who signs up to be a camp counselor to impress a client. He is paired with 10-year-old Eli (Miles Elliot), an abused boy who has become bitter and hateful. As the story unfolds, the reluctant counselor manages to break through the walls of Eli's heart to make a connection that changes them both.
Jacob Roebuck, writer and director, said the film was inspired by events in his own life. While serving on a local church staff, he was required and initially reluctant to participate in a mission trip to help abused and neglected children at the Royal Family Kids Camp.
"In my heart, I felt the call to go help these kids," he said. "The call went against my wiring. I did not work with kids. But I also knew better than to ignore what could be a divine prompting. I still resisted interaction with children, many orphaned, who desperately need contact with loving, caring adults."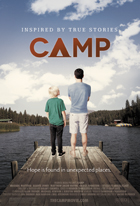 The film not only focuses on the special ministry of youth camps and personal evangelism, but also addresses themes of abandonment, abuse and neglect, especially the need for men to step into their roles as fathers and father figures.
"The camp experience, learning to care for the fatherless, has become the heart of the story we want to tell with our film," Roebuck said. "Why was it so hard for me to connect with kids? Where did the wall come from? Why is so hard for men to step into the place of father?"
Roebuck said he hopes the film will "inspire people to open their hearts to forgotten children who need adults in their lives."
Camp is rated PG-13 for brief language, mature thematic elements, brief violence and a crude gesture.
To order, call 800-876-WORD (9673).