'MacLarry and the Stinky Cheese Battle' offers kids lessons on getting along with others
Big Idea's latest release in the VeggieTales franchise tells the story of a land flowing with beards and kilts, where two clans who are locked in a longstanding feud lived.
In VeggieTales: MacLarry & the Stinky Cheese Battle, the Roman and Scottish Barberbarian tribes plot against each other with various pranks, including water balloon ambushes, pies, bad haircuts and a host of other hijinks.
Larry the Cucumber stars as MacLarry, a well-meaning young inventor who just wants to make kooky gadgets. Try as he may, he has never mastered the art of pranking, even after much training from the chief prankster himself—his father, Chog Norrius.
Discouraged, MacLarry sets out on a journey to find the great inventor Archie-medes in hopes of finding a place he can belong. Meanwhile, the feud is escalating and Chog's clan is plotting their biggest prank yet—releasing the loathsome-smelling Limburger cheese in the land on their rivals.
But when the cheese caper goes afoul, Chog and the people realize that they need MacLarry's special skills to save the day by helping both pranking tribes to overcome and resolve their differences for good.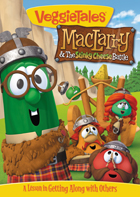 Set for release July 27 and July 30 in Christian and general market stores respectively, MacLarry & the Stinky Cheese Battle (820413131791, $14.99) aims to help kids work towards peace and unity, Big Idea officials said.
"With MacLarry & the Stinky Cheese Battle, the fun storytelling and animation that VeggieTales is so well-known for are amped up in this tale of a very silly 'prank battle' that delivers the important message of getting along with others," said Laura Neutzling, director of marketing for Big Idea. "This can be a tool for parents to impart this key idea to their kids, which extends into other core values, including acceptance and community."
The 45-minute video, which features the silly song "Stilts and Kilts," will be distributed by Word Distribution. To order, call 800-876-WORD (9673).