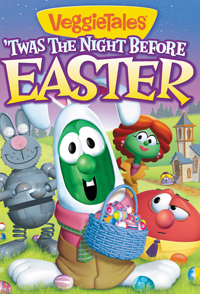 American Idol
finalist Melinda Doolittle voices new VeggieTales character Cassie Cassava in Big Idea's first new Easter-themed production in seven years, 'Twas The Night Before Easter (8-20413-11899-0, $14.99).
Releasing to Christian retail March 5, Big Idea's traditional three days ahead of the general market, the 48-minute feature follows cable news reporter Marlee Meade as she tries to save an old theater with the "Up With Bunnies" show.
But with a missing star and a conflicting church Easter service, the plan is thrown into question, providing an opportunity to present the message of the real meaning of Easter based on Mark 10:45. Additional family-friendly content includes silly songs, an audio commentary and profile of Doolittle, and a backstage pass feature with Larry the Cucumber on the VeggieTales Live! tour.
"We hatched 'Twas The Night Before Easter as a holiday surprise for families," said Leslie Ferrell, general manager of Big Idea Entertainment. "This title follows the huge sales success our first Easter-themed release, An Easter Carol, and we couldn't be more thrilled to deliver a new DVD timed to the holiday this year."
Big Idea is promoting World Vision's child-sponsorship program by including a video about the ministry on the DVD.
The new release will be promoted through a viral eGreeting Easter card campaign with American Greetings Interactive, as well as an "Easter Countdown" vignette program for radio outlets. Clips will be screened in-store at select Barnes & Noble, J.C. Penney, Chuck E. Cheese's, Best Buy, Toys "R" Us, Wal-Mart and Target outlets.
To order, call 800-876-WORD (9673).