Former semi-pro racer takes 'leap of faith' with sports-themed challenge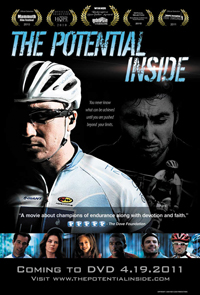 Scotty Curlee draws on experiences and friendships from his years as a semi-professional cyclist for his debut feature, The Potential Inside (8-52382-00301-4, $21.95).
He stars as as veteran cyclist Chris Carmik who, reeling from grief after a family tragedy, is given an opportunity he doesn't want, to train a rookie cycling prodigy.
Releasing next month through his own Red Cloud Productions, the 96-minute drama that Curlee also wrote, directed and co-produced was shot on courses in Virginia and includes an appearance by Jeremiah Bishop, a 12-time member of the USA Cycling National Team and twice U.S. national champion.
"We wanted to bring authenticity and technically accurate depictions of cycling to the big screen," said Curlee, who twice competed in the Olympics trials after moving to the U.S. from South Korea to purse his passion for cycling. "The only way we could do that was to bring the real people to the film."
Though the film centers on cycling, "the cycle could be replaced with anything else," he said. The movie's message is "about the potential we have inside of us, in Christ, to reach our very best. ... That potential could be for working through marriage struggles or dealing with grief. For other people it might be reaching some potential physically."
The Potential Inside has been "a leap of faith" for Curlee, who as a Liberty University graduate left a career in the pharmaceutical industry in 2007 to form his production company to produce films that are "socially responsible and have a positive impact on our communities."
Promoted with the tag line "You never know what can be achieved until you're pushed beyond your limits," the film has earned the Dove Foundation's highest, five-star rating. DVD extras include a personal greeting from Curlee and a director's commentary in which he talks about the movie with soundtrack composer Jim Daneker, who plays keyboards for Michael W. Smith.
The Potential Inside
is being distributed by Wesscott Marketing. To order, call 800-375-3702.