Written by Bob Spooner
Wednesday, 26 September 2012 10:03 AM America/New_York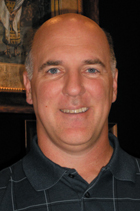 Running a Christian bookstore in this economic situation requires careful inventory control, planning and marketing, just to name a few of the retailer's intensified jobs. Here are a few ideas others have used to market wall décor in a niche that is still buying strong.
Try calling on existing church accounts and asking about future sermons or study series, then work with your favorite wall-décor manufacturers to uncover pieces that may fit well as tie-ins. Many customers will purchase art as a reminder of something they've heard in church or Bible study that profoundly touched their hearts.
Another largely ignored possibility that has picked up steam lately is working with churches to design large custom pieces for their foyers or other areas. One retailer recently purchased two stretched-canvas framed prints for a church, ordered by a member of its congregation. Deb Graham of Prestonwood Church in Plano, Texas, placed work from Robert Spooner Galerie all over the walls of the congregation's three campuses. And Lois Breeden of Flint Baptist Church in Flint, Texas, commissioned an original on canvas by Betty Spooner as well as many other pieces for the church vestibule. The tickets are quite large, while most of the research and design is done by the manufacturer.
Additionally, retailers should ask their manufacturers for samples of frames and mattes or other products they may use to customize wall décor for their customers in-store, or use other custom design tools they may have available.
Even for the artistically challenged, these methods of selling bigger wall décor items can be fun, while engaging customers in a personal way that will bring them back to the store time and again.
---
Bob Spooner
is director of marketing for Robert Spooner Galerie, based in Allen, Texas.