Best-selling author Vanessa Miller's success led Pennsylvania publisher to expand urban line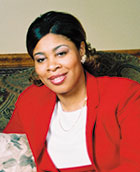 Whitaker House is expanding its offerings of fiction aimed at African-American readers, signing two veteran authors and launching three urban series.
"Whitaker House has had such great response to Vanessa Miller's books we felt the time was right to expand our line of fiction aimed at the growing market of black romance readers," said President Bob Whitaker Jr.
Popular inspirational urban-romance authors Pat Simmons and Tia McCollors each signed contracts for three-book series, starting with the release of Simmons' No Easy Catch ("Carmen Sisters," April) and Tia McCollors' Friday Night Love ("Days of Grace," May).
After wrapping up the "Morrison Family Secrets" series with the February release of The Preacher, the Politician, and the Playboy, Miller will launch the "My Soul to Keep" series in June with Feels Like Heaven.
Miller's "Second Chance at Love" series has topped the Black Christian News Network's best-seller list as well as finding success on the best-seller lists of Essence magazine, the Dallas Morning News and the Atlanta Examiner. —Jeremy Burns