Thirty-year veteran Paul Santhouse promoted to key position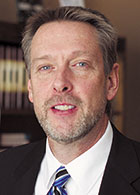 Paul Santhouse, a 30-year veteran in the publishing industry, was promoted in May to the position of vice president of publishing at Chicago-based Moody Publishers.
"Paul has been uniquely gifted and prepared by God to lead Moody Publishers at this time," said Greg Thornton, senior vice president of media, who oversees Moody Publishers and Moody Radio. "With great respect for the legacy and ministry of this publishing program, Paul has a compelling vision for the future and the staff to make it happen."
During his time at Moody, Santhouse has served on the marketing team, as an acquisition editor and director of acquisitions. In 2012, he began serving as publisher.
"I have always appreciated Moody's commitment to the Word and to the work of the church around the world," Santhouse said. "Moody Publishers has enjoyed an enduring season of growth and innovation under Greg Thornton's wise leadership, and I look forward to supporting the ongoing work of our team as we help readers around the world know, love and serve Jesus Christ." —Johnson