Executive held role at Inspirio and Family Christian Stores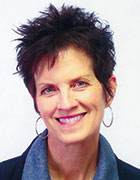 Lighthouse Christian Products Co. announced the hire of Val Buick as executive vice president and CEO.
"We are very excited that Val decided to join our team," said George Nizynski, president and co-owner of the company with his wife, Pat. "We cannot think of anyone more highly regarded in the Christian gift industry. We have known Val for approximately 18 years. She was our first gift buyer at Family Christian Stores. Val will focus on helping Lighthouse expand its product offering into new and additional categories."
Buick said she was "thrilled" to be a part of the company.
"I look forward to working closely with the wonderful and talented people to grow Lighthouse into the future," she added.
Buick comes to Lighthouse from RBC Ministries where she was director of marketing. Prior to RBC, she was senior vice president at Inspirio, the gift group at Zondervan. —Johnson