New DVD series harks back to his groundbreaking film series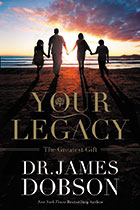 Family Talk's Dr. James Dobson is introducing a new DVD series, "Building a Family Legacy," that builds on highlights from his historic first film series, "Your Legacy." Accompanying the series are a number of new and repackaged books and study guides in support of Dobson's life work. Each trade book relates to a series' DVD from Provident Distribution and its own curriculum through LifeWay.
"Unchanging biblical principles change who we are, and we can pass that to our children, grandchildren and beyond," said the child psychologist who built Focus on the Family and now Family Talk. " 'Building a Family Legacy' can help every generation be all a family can be."
The series (buildingafamilylegacy.com) adds new footage from Dobson's lifetime of experience and learning. Eight DVDs—supported by books and study guides—bring intergenerational advice from Dobson, his wife, Shirley, daughter Danae and son Ryan. Along with bonus features, the titles are: Your Legacy; Bringing up Boys; Bringing up Girls; Love for a Lifetime; The Strong-Willed Child; Dare to Discipline; Straight Talk to Men; and Wanting to Believe With Ryan Dobson.
Audience numbers for the original films—shown mostly in church settings in a pre-DVD era—soared past 80 million. When Ryan Dobson, now a parent, viewed the old films on DVD in 2008, he asked his father about reworking them for today's moms and dads.
"The first thing I did was laugh at my dad's glasses and clothes, but I realized quickly how valuable and timeless this information was," he said. "I picked up the phone and said, 'Dad, my friends and I need this!' "
Produced and directed by David Nixon, the updated series will be available on DVD in October through Christian stores and online. A simulcast—available in churches Oct. 1-5—is expected to introduce the series to 1 million people.
"I'm at a place where I could have just retired," said Dobson, now head of the Family Talk ministry and radio broadcast. "But God told me the job's not finished."
Provident's vice president of sales believes the new DVD series will speak to this generation.
"What classic children's films are to kids, Dobson videos are to parents," Davis told Christian Retailing. "The 'Legacy' videos will be new again—and timeless—with each new generation."
FaithWords is releasing Your Legacy: The Greatest Gift by Dr. Dobson on Sept. 2, and B&H Publishing Group is releasing Wanting to Believe: Faith, Family, & Finding an Exceptional Life by Ryan Dobson in September.
In addition to the DVDs, Tyndale House Publishers, has five titles that will be repackaged and released in September. Tyndale's five titles are: Bringing Up Boys, Bringing Up Girls, The New Strong-Willed Child, The New Dare to Discipline and Straight Talk to Men.
Jan Long Harris, publisher of Tyndale Momentum titles, is aware of the need for such materials for parents."During the past 12 months, Tyndale's sales of Dr. Dobson's books grew 16.8% compared to the previous 12-month period," Harris said. "There is a hunger on the part of parents and families for sound Bible-based advice. Dr. Dobson's 'Building a Family Legacy' project will speak into this need, and we are delighted to support the effort with the publication of special editions of Dr. Dobson's timeless best-selling books." —Johnson