Dwight Baker of Baker Publishing Group to head ECPA board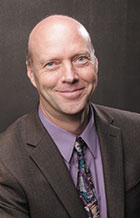 The Evangelical Christian Publishers Association (ECPA) voted four industry leaders onto its board during the group's annual meeting held at April's ECPA Leadership Summit in Colorado Springs, Colo.
Dwight Baker, a second-term ECPA board candidate and president of Baker Publishing Group, will serve as ECPA chair for the next term.
"I am thrilled to have Dwight continue the Baker family legacy of distinguished board service as both his father (Richard) and grandfather (Herman) served on the ECPA board in the past," said ECPA President and CEO Mark Kuyper. "The first in his family to serve as Chairman, Dwight's lifelong experience in publishing, appreciation for quality content, and love of God's Word, make him exceptionally well suited to lead our board."
Another second-term candidate, Bob Fryling, publisher of InterVarsity Press, will serve as board secretary. Byron Williamson, CEO and publisher of Worthy Publishing Group, and Joe Wikert, director of strategy and business development at Olive Software, join the board as first-term candidates.
Cris Doornbos, David C Cook president/CEO, is outgoing board chair, and Gretchen Goldsmith, Rose Publishing/Aspire Press president/CEO, is outgoing vice chair.
Remaining on the board are Vice Chair David Moberg, senior vice president at HarperCollins Christian Publishing; Treasurer Jerry Kregel, vice president and chief financial officer of Kregel Publications; Member at Large Jeffrey Wright, CEO of Urban Ministries International; Stephen Cobb, president of WaterBrook Multnomah Publishing Group; Tammy Gaines, vice president at Abingdon Press; Jeff Johnson, COO at Tyndale House Publishers; Cory Verner, president and publisher of eChristian; and Selma Wilson, president of B&H Publishing Group. —Johnson