Wife of best-selling author aims to fill gift niche in Christian market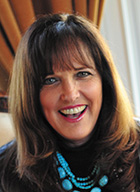 Mary Colbert—known to many as the wife of best-selling health and fitness author Dr. Don Colbert and a minister in her own right—is launching a gift company at a time when many are opting out of new introductions. Colbert is entering the market as an entrepreneur with a unique gift product: Bible Balloons (bibleballoons.com).
Colbert said the idea for Bible Balloons came about two years ago "when I saw the Word being removed from government institutions and lawsuits being brought against the Ten Commandments and how they're just trying to stifle the Bible and the Word of God in any way they can."
The 18-inch round Mylar balloons feature a double-sided color design. They are self-sealing and refillable and can be filled with helium or air. With more than 20 customizable designs, the balloons include such greetings as "Congratulations!"; "Happy Birthday!"; "It's a Boy [or Girl]!" and "Get Well Soon!"
The designs also have accompanying scripture. For instance, a Get Well Soon balloon bears the scripture Isa. 53:5: "By his stripes I am healed." One of the Happy Birthday balloons has Jer. 1:5 imprinted in the design: "Before I formed you in your mother's womb, I knew you."
She believes there is a healthy future for Bible Balloons.

"What better way to acknowledge a celebration than the Word of God?" she said. "Because the Word of God is built completely around celebration. It's very positive. That's why it's called the good news.
"Hopefully we will whet people's appetite to know more about what's in the Bible," she added. "If I don't do anything else but that, is whet people's appetite to know more of what's written in the Bible, I will have accomplished what I wanted to accomplish."