Some member stores saw double-digit growth as 50-year-old Florida store faces significant challenges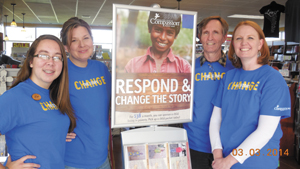 Munce Group has reported that most of its member stores ended 2013 with an increase, though a half-century-old store is trying new approaches in hopes of an improved future.
"The majority fell within single-digit growth of 1%-5%, (but) we had a range of stores that experienced large growth of double digits," said Munce Group President Kirk Blank.
Living Room Books in Bastrop, Texas—about 35 miles southeast of Austin—is seeing success. Manager and co-owner Kimberly Burns thinks that 2014 could mark the store's third consecutive double-digit increase. Sales increased 26% last year after a 19% gain in 2012.
"For this year, our first two months have been very strong," Burns said. "We have been surprised with these strong increases when you take into consideration the Bastrop County Complex fires of September 2011" (a reference to the state's most destructive wildfires in history).
After examining the store's advertising approach, "we decided to put more into catalogs because we saw an increase in sales for those months when we sent one out," Burns said.
Lately the store has attracted more shoppers with its Frequent Buyer program, thanks to emphasizing its benefits that include allowing customers to designate 2% of each sale to their church.
Although books don't occupy center stage for many retailers, they lead all categories at Living Room, generating 23% of revenue. Gifts (18%) are next, followed by Bibles (14%).
Ironically, Burns had considered relocating her 9-year-old store to the west of Bastrop to take advantage of growth patterns. However, recent expansion to the east has put Living Room back in the center of retailing traffic.
New Covenant Christian Bookstore in Shelbyville, Tenn., didn't reach double-digit growth, but Dennis Lovvorn hopes the store will match its current 6% growth in 2014.
Lovvorn, who also operates a Thomas Kinkade Gallery in Murfreesboro, Tenn., calls doubling his catalog mailings in 2013 the key to keeping New Covenant's name in front of customers.
"I hope we can keep the momentum going," he said. "We plan to use even more of the Munce catalogs this year. We are celebrating our 20th anniversary this summer, so we hope to create some excitement with an anniversary sale, author signings and other things."
Bible sales are New Covenant's most important category with a deep selection and frequent sale pricing. Gifts, especially Willow Tree, are strong, and the P. Graham Dunn laser personalization center attracts repeat shoppers.
New Covenant's Fair Trade product section attracts customers in search of handcrafted items that support artisans in developing countries. The store also has picked up a line of candles whose wicking process is done by disadvantaged adults and a shoe-sachet product made by wounded veterans.
Among Munce members are stores facing challenges, too. Tampa Christian Supply, which will turn 50 in October, doesn't expect to greet its silver anniversary with much fanfare.
That's because a five-week "fire sale" that wrapped up March 22 didn't generate the kind of revenues to help the store catch up from a bleak 2013 Christmas season.
"Long term, our store is going to shrink," said Vice President and General Manager Patrick Pellizzee. "How small it's going to shrink is the next factor. We own our building, so we have a lot more flexibility than most folks."
On the store's plus side, sales of church and Sunday school supplies remain healthy with 70% of the demand coming from African-American and Hispanic customers. Pellizzee also sees continuing interest in Bibles and gifts with buyers seeking a hands-on experience for both.
While still formulating plans, Pellizzee has contemplated purchasing a P. Graham Dunn laser or similar machine to attract new business.
"I think most major metropolitan areas need that and would support it," Pellizzee said of customization.