'Inclusive' imprint's title by homosexual activist Matthew Vines draws strong reaction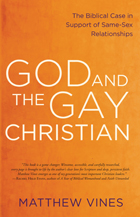 Convergent Books, an imprint of Random House's Crown Publishing Group, has published a pro-gay book that the company describes as an "affirmation of both an orthodox faith and sexual diversity."
The April publication of Matthew Vines' God and the Gay Christian: The Biblical Case in Support of Same-Sex Relationships stirred controversy online among some conservative Christians, including Matt Barber, cultural analyst, and Michael L. Brown, author of Can You Be Gay and Christian? (FrontLine/Charisma House).
Written by Vines, a gay activist who himself is homosexual, God and the Gay Christian was born out of years of research on the Bible and homosexuality.
Stephen W. Cobb oversees Convergent and Catholic imprint Image as well as the WaterBrook Press and Multnomah Books imprints, whose books are more commonly carried by CBA member stores. Convergent was launched in December 2012 as a new kind of faith-based imprint whose titles were expected to lead to "an open, inclusive and culturally engaged exploration of faith."
Barber (BarbWire.com) cited an unspecified source with ties to Multnomah, who said it was "reasonable to speculate that Multnomah is trying to cover up its fast-growing connection to sexual sin activism."
The same source said: "Multnomah is now consciously trying to hide from NRB [National Religious Broadcasters] and its members the fact that it is putting out this new project," referring to Vines' book. He also said the "same staff, editors, executives, promoters are behind the book as are behind those put out by other 'imprints.' "
Cobb emphasized that Convergent is "separate and distinct" from WaterBrook Multnomah Publishing Group.
"I've established very distinct editorial guidelines for each of these imprints," he told Christian Retailing. "I'm very aware of what these are. They are rigorously applied, and we're certainly sensitive to what's appropriate and where it's most appropriate."
Cobb especially noted that staff members are not forced to work on any book that is against their beliefs.
"We actually went to great lengths and have always gone to lengths here to make sure that our people here have never been required to work on anything that offended their personal beliefs," he said. "We met with everyone in small groups and, in some cases, individually, and I can think of a couple of employees off the top of my head that asked to not participate in the publishing function regarding this particular book, and we were respectful and grateful for their candor and excused them from any involvement, so we don't run that kind of shop here."
Brown stated on Twitter that Vines is "not a biblical scholar" and that the book is "100% antithetical to Scripture regarding homosexuality."
Cobb pointed out that the company's other imprints host books with different points of view on the issue.
"What drew me to this book was I believe this is one of the most significant issues that faces the church in our current generation," he said. "I think it's obvious that there's a lot of hostility and emotion that might be clouding our approach to our brothers and sisters in Christ who have a different orientation than we do, and I don't have the answers, but I believe that it's an issue that needs to be dealt with more openly and in a more civil fashion in the church than what I see today."
Convergent Books titles are not being shopped to CBA market retailers.
"Our Christian sales force is not soliciting orders for this book, never has," Cobb said. "It would've been inappropriate for them to carry this book to Christian retailing and that has not been the case."
Vines' book has been endorsed by such authors as Rachel Held Evans, who calls it "a game-changer," and Tony Campolo, who recommends it to "Christians who oppose gay marriage."
The publisher further responded online at convergentbooks.com
.